Giving strengths to returnees from the South passing through Da Nang
October 10, 2021, 13:40 [GMT+7]
Since early October, more than 16,000 people returning to their hometowns from COVID-struck southern localities have been supported with drinking water, food, gas, motorbike repair services, and money by local relevant agencies and volunteer groups while passing through Da Nang.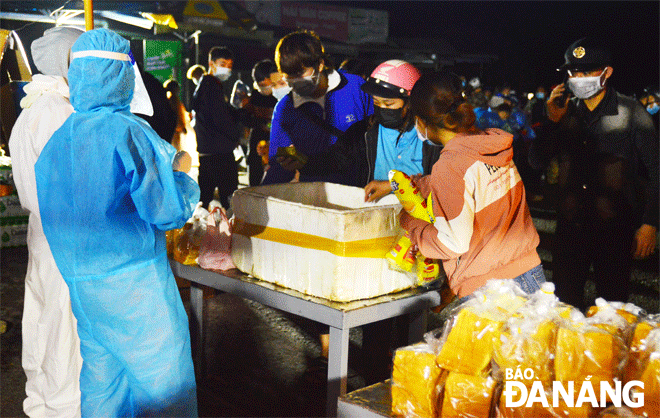 Milk, bread, 'banh chung' (square glutinous rice cakes) and drinking water are provided for returnees from southern localities who pass through Da Nang whilst heading home
In-kind and spiritual support
According to Da Nang People's Committee Vice Chairman Le Quang Nam, recent days have seen a huge surge in demand for home returns from people in the worst-hit southern localities due to the unexpected developments of the pandemic.
In an effort to ensure a safe return to home for the returnees, the municipal government has sent an official letter to the Ho Chi Minh City-headquartered Deo Ca Investment JSC (DII) to request its opening for the Hai Van Tunnel 2 to facilitate the returnees to pass through safely.
At the same time, traffic police citywide have been deployed to ensure traffic safety and COVID-19 prevention and control for returnees whilst travelling through Da Nang.
Doctor Nguyen Tien Hong, the Deputy Director of the city's Department of Health, said that two medical teams have been on duty around the clock at some the city's gateways, whilst two mobile medical teams have also been arranged, both aimed at giving timely medical support for those in need.
Late on October 6, the Deo Ca Investment JSC officially opened the Hai Van Tunnel 2 to traffic in a bid to facilitate the returnees to pass through the tunnel safely. As a result, the city's functional forces led the way for more than 1,000 people on their journey back home on motorbikes from the south to pass through the tunnel safely.
Mr Vo Ngoc Trung, Deputy General Director of the Deo Ca Investment JSC, said that this was the first time that the tunnel had been opened for motorbikes to travel.
"If we don't open the tunnel for them to pass, they have to drive through 20km-long dangerous winding pass in heavy rain" Mr Trung said.
Especially, before leaving Da Nang, the returnees received cash gifts of VND 100,000 each, along with were provided with free gas and motorbike repair services.
According to Colonel Phan Ngoc Truyen, Head of Traffic Police Office under the municipal Department of Public Security, in recent days, traffic police have been active in leading the way for dozens of convoys of people through the Hai Van Pass and Hai Van Tunnel.
Warm-hearted volunteers
In the past few days, many groups of charity, volunteers and students across the city have been on duty along roads where groups of returnees pass through so as to support food, drinks, medical care and others.
Mr Phan Minh Viet, Deputy Leader of the Da Nang Pick-up Truck Club, said that for nearly a week, he and other club members have staffed from the Lo Xo Pass (bordering with Quang Nam and Kon Tum provinces) to the top of Hai Van Pass, as well as Lang Co Town in Thua Thien Hue Province to provide food and drinking water for returnees passing through Da Nang whilst heading home from the south, as well as transport the elderly, women and children through the pass.
Every day, after receiving information about the number of people who will pass through Da Nang for their home returns, the club will prepare for fee portions of meals, drinking water and gasoline for them.
Additionally, the club's medical and motorbike repair teams have been deployed to help returnees handle their unexpected incidents, thereby helping them continue their journey back home.
"The club has more than 50 pickup trucks operating continuously and moving back and forth on the Hai Van Pass. Despite recent unfavourable weather conditions, we always motivate ourselves to try harder because our compatriots are still struggling to drive thousands of kilometers to get home" Mr. Viet said.
In addition to the Da Nang Pickup Truck Club, there are nearly 10 other volunteer teams and groups which are always showing their willingness to help returnees by supporting portions of rice and soup, loaves of bread, drinking water and others. Notably, free motorbike repairs have been provided for returnees to help them continue their journey back home.
Mr. Truong Vinh Phuc, leader of the Zero-dong Coach team, said that the team has worked closely with other volunteer groups to collect information about returnees' time and routes to their hometown. From there, the team would arrange adequate human and material resources at stopovers to help them. In recent rainy and cold weather, the team has given raincoats and face coverings to the people to use in the next journey.
Faced with the situation that some people, with their motorbike engines breaking down or carrying small children, could not keep up with the group and got lost in the city, Mr Truong Vinh Dang and his father, both residing in Cam Le District's Hoa An Ward, have printed and hung signposts along roads with the aim of indicating roads for those in need.
Up to now, they have installed signposts indicating ways to the Hai Van Pass at junctions and intersections of some major streets in the city.
"For many people, this may be the first time they have to pass through Da Nang by motorbikes, so they don't know the way to go. Therefore, I have installed temporary signposts to guide people in order to prevent them from getting lost, as well as accidentally entering the city's COVID-19 worst-hit areas" Dang said.
During their journey back home by motorbikes, returnees had to spend about 2-3 days driving motorbikes to return to Da Nang, so they were very tired. Therefore, when receiving active support from local citizens, many of them did not hold back their emotional tears.
Ms Ly Thi Thuy hailing from Thai Nguyen said emotionally "I'm really touched by meaningful support and kindness from the government and people of Da Nang. I've been driving thousands of km so my limbs are tired and numb, fortunately, A Nang's friends give me food and drinks. Thank you very much".
Reporting by XUAN DUNG, TRI DUNG - Translating by M.D
.