Da Nang leader calls for quick action to prevent COVID-19 occurring and spreading
November 25, 2021, 11:40 [GMT+7]
Da Nang People's Committee Vice Chairwoman Ngo Thi Kim Yen called on authorities at local level to take quick action and all necessary measures to suppress new infections in a bid to avoid a new spread of the SARS‑CoV‑2 virus during her meeting with members of the municipal Steering Committee for COVID-19 Prevention and Control held late afternoon on Wednesday.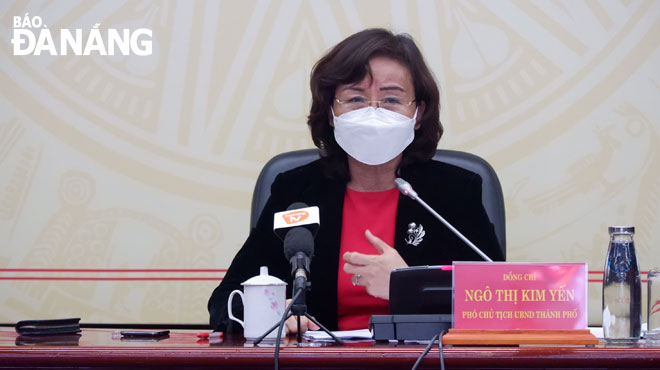 Vice Chairwoman Ngo Thi Kim Yen chaired Wednesday's meeting of the municipal Steering Committee for COVID-19 Prevention and Control to identify the most effective measures to tackle rising cases. Photo: PHAN CHUNG
Mrs Yen stated that cases are rising again in Da Nang and new cases are related to different chains of transmission. She remarked that there have been new outbreaks of the virus in businesses with rapid rise in cases, thereby urging tracers to ramp up their efforts to conduct thorough contact tracing of each confirmed case to make sure all COVID-19 contacts are traced in an attempt to curb the spread of the virus.
Mrs Yen noted that many primary close contacts have been missed and this could even greater numbers of unknown cases spreading the virus, and develop potential outbreaks. Missed primary close contacts pose great threat to our community, especially crowded places, she emphasized.
Vice woman Yen urged every one across Da Nang to voluntarily comply with the city's COVID-19 guidelines, especially the 5K recommendations of the Ministry of Health, amid the complex developments of COVID-19 in order to protect themselves and others.
She highlighted the important role of authorities at local level in the city's fight against COVID-19, asking them to take proactive action and adopt the most effective measures to suppress the resurgence of local outbreaks.
The health agency was tasked to work with the education sector to roll out COVID-19 vaccine program for students in grades 6 and 7 as soon as possible, as well as offer second doses to senior high school students in a timely manner.
Mrs Yen also directed authorities at local level to identify those who have not been jabbed in their local areas to help them timely access to a COVID-19 vaccine to protect themselves, their friends and family, as well as help them prevent from getting seriously ill even if they do get COVID-19. In addition, the heed must be paid on testing vulnerable and high-risk groups to identify who is infected and tracking them to make sure they do not spread the disease further.
Reporting by PHAN CHUNG – Translating by H.L
.