Thorough contact tracing and timely case detection needed
November 24, 2021, 18:12 [GMT+7]
Da Nang has seen a rise in daily cases of COVID-19 in the community over recent days, many of which have been identified in industrial parks. The health agency's analysis shows that missed primary close contacts could lead to even greater numbers of unknown cases spreading the virus, and develop potential outbreaks, making it difficult for the city's fight against COVID-19.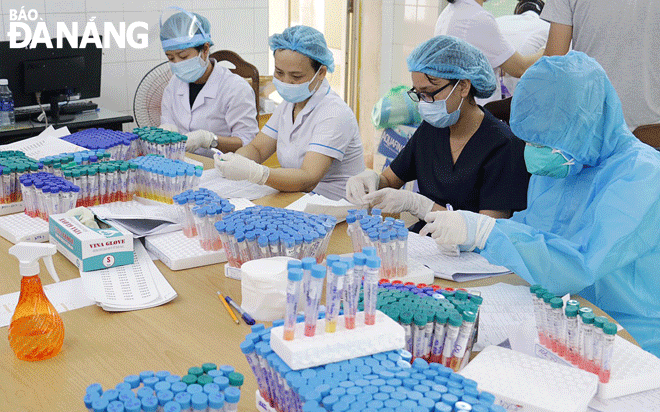 Staff members of the Da Nang Center for Disease Control and Prevention (CDC) handle swab samples collected from local residents for COVID-19 testing. Photo: LE HUNG
COVID-19 close contacts missed
The Da Nang Center for Disease Control and Prevention (CDC) said that the city continued to record an increase in daily COVID-19 cases in recent days. Tracers have found that many primary close contacts have tested positive for the virus as all contacts of each confirmed case have yet to be identified and traced. These confirmed cases were linked to previous chains of transmission as many close contacts have been missed.
Doctor Ton That Thanh, the Director of the Da Nang CDC said that life has largely returned to normal in the city with many activities and services being allowed to resume. Therefore, local residents find it more convenient to travel to work and participate in activities and services.
"The epidemiological investigation of confirmed cases demonstrates that many places where they had visited whilst being infectious have been missed as they had participated in too many activities and services and they couldn't remember them all. As a result, there have been many hidden cases related to previous transmission chains, causing a rise in unknown cases spreading the virus", said Dr. Thanh.
In its efforts to effectively control the spread of the virus, the Da Nang government has asked authorities at local level to enhance compliance monitoring and enforcement of QR code check-in rules in crowded places, production facilities, along with eating and drinking establishments and service facilities. This will help tracers reach all close contacts that have been in COVID-19 exposure locations and timely notify them to monitor their health, and ask them to check with their local healthcare facilities for what to do if they develop COVID-19 symptoms.
Mr Thanh highlighted the need to recommend the public to fully comply with QR code check-in rules in crowed places or face tough punishments for non-compliance.
In order to avoid missing close contacts, Mr Thanh stressed the need for local residents to follow the 5K recommendations of the Ministry of Health. All primary close contacts must undergo strict self-quarantine at their declared accommodation, voluntarily comply with the city's COVID-19 guidelines. They must not leave their house at all during their isolation period.
In addition, close contacts that have yet to get vaccinated against COVID-19 should actively contact with their local authorities to timely access to a COVID-19 vaccine to protect themselves, their friends and family, as well as help them prevent from getting seriously ill even if they do get COVID-19.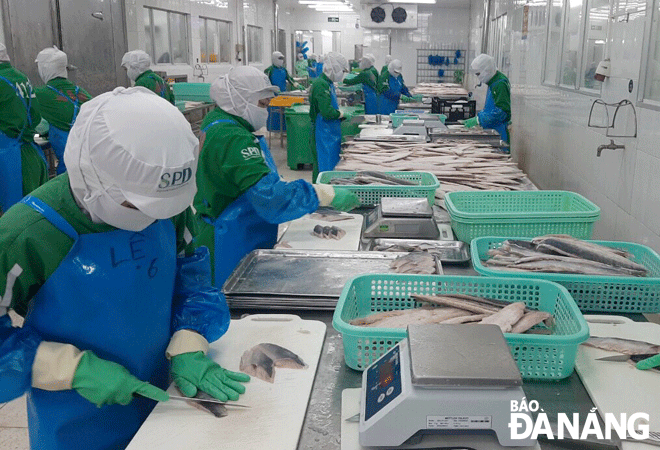 The Central Seafood Import-Export Joint Stock Company is putting in place strict health and safe protocols in order to ensure its workers are in a safe and secure environment. Photo: KHANH HOA
Prevention and control of infections in industrial parks
A representative of the Da Nang Industrial Park Infrastructure Development and Exploitation Company that is the Authority of the Hoa Khanh Industrial Park and Da Nang Fisheries Service Industrial Park said that 455 workers of the Viet Hoa Electronics Company in the Hoa Khanh Industrial Park in Lien Chieu District got PCR tests for COVID-19 on November 22 after 5 cases had been identified. As a result, one more case was detected in this company. One day later on November 23, the remaining 900 workers of this company underwent COVID-19 testing but no one was found postive for the virus.
Mr. Nguyen Trong Cuong, the Director of the Da Nang Industrial Park Infrastructure Development and Exploitation Company said that apart from quickly adopting COVID-19 control measures in the Viet Hoa Electronics company, the agency has asked all businesses operating in the Hoa Khanh Industrial Park to continue their efforts to follow the recommended infection prevention and control measures and remain vigilant against COVID-19.
The Hoa Khanh Industrial Park is now home to 200 companies with about 7,000 workers in total. The appearance of COVID-19 infections in industrial parks will pose a great threat to businesses operating there, and have significant adverse effects on their production activities. Hence, all businesses operating in industrial parks are taking proactive measures to prevent the spread of the virus in their workplace in a bid to protect the safety of their employees and ensure the continuity of their production amid the complex developments of COVID-19.
The Authority of the Da Nang Hi-Tech Park and Industrial Parks said that the focus is on conducting surprise onsite visits to businesses operating in industrial parks to make sure that they are following the recommended control measures or face harsh punishments for non-compliance. In addition, the heed is paid on conducting regular COVID-19 testing for workers in industrial parks in order minimize the risk of community spread of the virus.
Till date, a combined total of 71,417 experts and workers or 96.8% of the employees in Da Nang's industrial parks have received at least one dose of a coronavirus vaccine while 60,740 employees or 82.3% of the total have been fully vaccinated against COVID-19. However, 2,385 workers in industrial parks have not been jabbed as they are newly- recruited employees who come from other parts of the country.
Reporting by P.CHUNG – K.HOA- Translating by H.L
.