Singapore expands travel corridor to eight more countries
October 19, 2021, 08:33 [GMT+7]
Singapore will exempt quarantine requirements for passengers from eight other countries who have been fully vaccinated from October 19.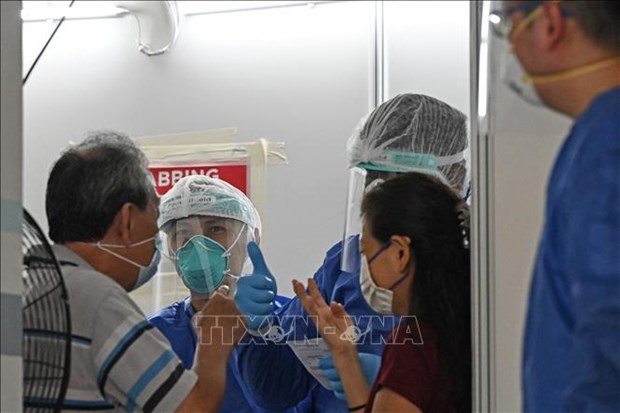 People get vaccinated against COVID-19 in Singapore. (Photo: AFP/VNA)
The move is one of Singapore's efforts to gradually lift restrictive measures to live safely with the COVID-19 pandemic.
With more than 80 percent of its population fully vaccinated against COVID-19, in mid-September, Singapore officially resumed international travel for vaccinated passengers from Germany and Brunei under the "Vaccinated Travel Lane".
From October 19, this programme will be expanded to eight more countries, including the UK, Canada, Denmark, France, Italy, the Netherlands, Spain and the US. The travel corridor with the Republic of Korea is expected to begin on November 15.
Under this policy, passengers will not be required to undergo isolation if they have been fully vaccinated against COVID-19 and tested negative before departure and upon arrival in Singapore.
Earlier, on October 9, Prime Minister Lee Hsien Loong announced a series of easing measures under the strategy of "living with COVID-19.
He said that the "Zero-COVID" strategy that Singapore applied in 2020 was appropriate, but the appearance of the Delta variant forced Singapore to adjust and identify living with COVID-19 when the rate vaccine coverage reached 80 percent in August 2021.
Source: VNA
.