City leader listens to opinions and aspirations of associations
Published: July 07, 2014
The Secretary of the Da Nang Party Committee, Mr Tran Tho, recently met with representatives from the city's organisations and associations in order to listen to their opinions and aspirations for the city's progress.
The authorised Chairman of the city's Fisheries Association, Mr Tran Van Linh, said he hoped that the development of local tourism, which is one of the local spearhead economic sectors, would not affect other sectors, especially the fishing activities of local fishermen and anchorage for their fishing boats.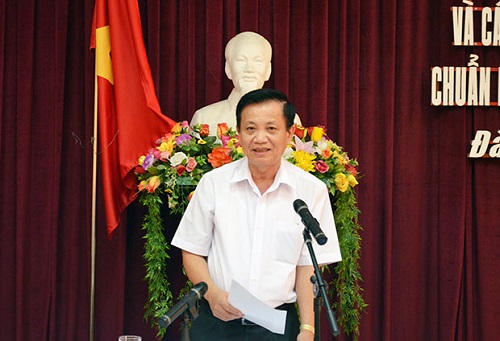 Secretary Tho at the event
The Chairman of the Da Nang Taxi Association, Mr Vo Thanh Nhan, said that the city has seen a remarkable growth in tourism over recent years. However, he added that there has been a sharp decrease in the number of Chinese visitors to the city since the start of the territorial disputes between Viet Nam and China. He therefore stressed the need for local relevant agencies to raise public awareness about the need to stop discrimination against Chinese tourists. This will help Da Nang to be seen as an attractive and safe destination for all foreigners from around the world.
Speaking at the event, Secretary Tho affirmed that both fisheries and tourism are the city's important economic sectors. He said that the local authorities have given top priority to promoting the future development of both sectors.
The city leader also promised to facilitate access to preferential loans for local fishermen as soon as possible. He remarked that local fishermen arbitrarily decide whether to build wooden- or steel-hulled fishing boats, and many decide to build wooden-hulled boats in accordance with their fishing traditions.
.