Successful businesspeople – good examples for start-up lovers to follow
Published: March 29, 2017
Over the past 4 decades, since Da Nang was recognised as a centrally-governed city on 1 January 1997, the city has seen many successful young start-up businesspeople who have helped to create job opportunities for local residents and made a great effort towards the city's progress. Most notably, these successful businesspeople have enthusiastically inspire more young people to develop their own start-up ideas and make their dreams come true.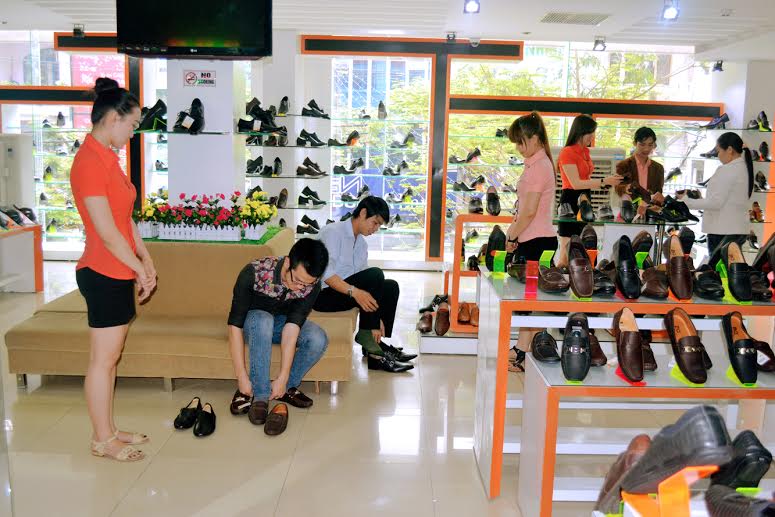 Inside one of the BQ Shoe Company's shops (Photo: Internet)
The General Director of the BQ Shoe Company, 48-year-old Phan Hai, is a good example for other start-up lovers to follow. Mr Hai risked everything to grow his start-up businesses, but he has managed to accomplish his dream despite the many potholes on his road to success. He said that he sold his the house where he, his wife and their 2 children lived in order to raise capital to set up his own company in 2006. Thanks to his hard-working spirit and strong determination, his company now has a strong position in the local market. The BQ Shoe Company has expanded its business activities into other localities nationwide and established a branch in Laos.
In particular, Mr Hai has shown a keen interest in attending several local start-up exchange activities with young people, and he has delivered speeches at many local universities in a bid to share his valuable experience in developing start-up projects. He always aims to help young start-up lovers overcome the obstacles in setting up their own businesses.
Mr Tran Quang Minh, 41, the General Director of the Gala Viet company, is also one of the local standouts amongst a sea of entrepreneurs who have shown commitment, determination, and a certain recklessness in the pursuit of their life-long aspirations. The strong-willed man said that he set up his company in 2008 to satisfy the increasing local demand for events organisers. At that time, he realised that the demand for organisers of big conferences and related events was high, but there were only a few companies specialising in that type of service.
Mr Minh said that, in the early days of operation, his company faced numerous difficulties, including a shortage of capital and high-quality employees. With his great efforts to pursue his strong start-up ambitions, his company's business activities have thrived significantly over recent years.
At present, the company has over 800 employees, and it has established many branches across the country. He proudly said that his company is now able to organise large-scale events at national and even ASEAN regional levels.
45-year-old Le Thi Nam Phuong, the Chairwoman of the Board of Directors of the SKY-LINE High-quality Educational System, shared some of the difficulties she and her partners faced when they embarked upon the start-up path to develop a high-quality educational system.
She remarked that she has done her utmost to apply new technologies and expand her business activities in order to bring high economic efficiency. Special attention has been paid to conducting research and developing new products to meet the high demand from the local market.
In addition to promoting the development of its business activities, her company has enhanced its corporate social responsibility over recent years, with a focus on participating in numerous local social work activities.
Most notably, the company donates hundreds of billions of VND to the city's Cancer Hospital every year, and gives financial aid to poor, social policy families and those living in flood-affected areas.


.