Brand identification icon of three central provinces announced
Published: April 10, 2017
The brand logo for the 3 coastal provinces Thua Thien Hue, Da Nang, and Quang Nam was announced late last week in Ha Noi.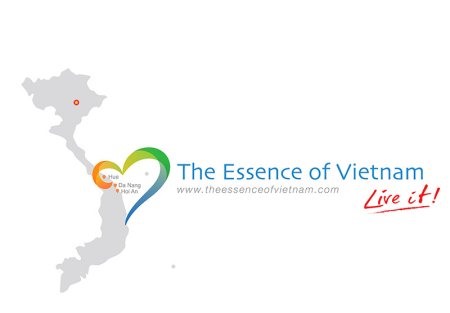 Icon: The Essence of Viet Nam brand name. — Photo sopro.vn
In February 2014, with the technique support of European Union to the project EU – ESRT, the 3 provinces have signed an agreement on tourism development cooperation. The result was the approvement of the logo, the brand identification icon of 3 provinces, and also the tourism website The Essence of Viet Nam and www.theessenceofvietnam.vn.
The ceremony to announce the logo, held last Friday at Ha Noi's Trade Union Hotel, received authorities and representatives from many prestigious hotels and resorts from the 3 provinces.

Nguyen Thi Thanh Huong, Deputy Chairman of Viet Nam National Administration of Tourism, said she hoped this would help unlock Viet Nam's great tourism potential.

"The brand navigates the destination as a quintessence of Viet Nam, where tourists can explore the culture, seaside and best food experience. An open heart of 4 colour-orange, blue, green and red--symbolises regional main products like culture, sea, nature and food. It demonstrates the regional travelling potential," Huong said.
(Source: VNS)
.