Thai products dominate in local supermarkets
Published: April 04, 2017
Vietnamese products are facing fierce competition from imported Thai goods in supermarkets in Da Nang, and in Viet Nam as a whole, as Thai food companies are increasingly expanding their presence across the country.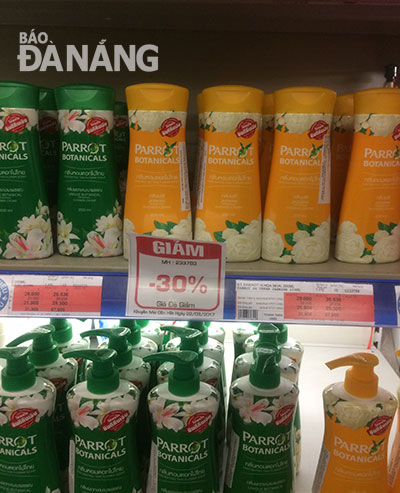 Some Thai products at a local supermarket
Currently, Thai consumer goods like fruits, sweets and household goods, predominate in Da Nang's supermarkets.
For example, many Thai products, such as soap, fabric softener and liquid laundry detergent, can easily be found at the city's BigC Mall.
Ms Nguyen Thi Thu Hong from Ngu Hanh Son District said, "I prefer Thai fabric softener rather than Vietnamese-made products due to their concentration and long-lasting fragrance."
Many local retailers are launching a wide range of attractive promotion programmes to stimulate customers to purchase. In particular, some of the Thai products on sale at Mega Market (formerly Metro) are now being offered at up to 49% discount.
Mrs Phan Nhu Yen, Director of the city's branch of Intimex Supermarket, pointed out the main reasons why Thai products, or other goods imported from such Asian countries as Malaysia, India and the Philippines, are flooding the domestic market. Essentially, she says, Vietnamese people prefer buying foreign products rather than locally-made ones. In addition, domestic small and medium-sized enterprises need to make greater efforts to enhance the quality and designs of their products.
Mr Ho Quoc Nguyen, Head of the Public Relations Office of BigC Viet Nam, said that the BigC supermarket chain has given top priority to selling Vietnamese products. However, the range of foreign products offered for sale is to meet the increasing demands of customers, especially expats who are living and working in Viet Nam.
Vice Chairman of the Da Nang Fatherland Front Committee Tran Van Du highlighted the importance for local businesses of enhancing the quality and renewing the designs of their products, reducing their selling prices, and better advertising their products to re-win the trust of customers.
.