Youths show keen interest in starting up with organic vegetables
Published: August 01, 2017
Over recent years, many young people in Da Nang have shown a keen interest in setting up their own businesses in organic vegetable production and supply.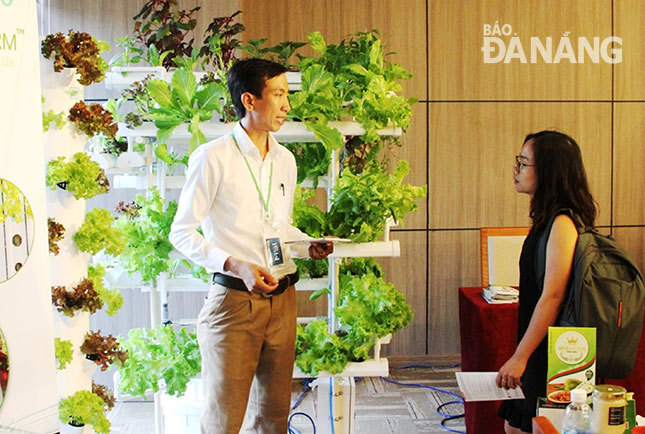 Mr Phong introducing his growing model to a visitor at a local start-up event
Mr Nguyen Quoc Phong, the Director of the H20 Farm Viet Nam company, graduated from the Faculty of Information Technology at the city's Duy Tan University, but he has a strong passion for safe and environmentally-friendly agricultural production.
In order to realise his dream of being a successful business owner, Mr Phong quitted his stable job in a local company to begin his own business. Late last year, Mr Phong developed a pilot model of setting up organic vegetable gardens in urban areas, using hydroponic growing methods. Notably, the young talented man visited Da Lat and Ho Chi Minh cities to learn more about their growing methods and seek partners providing seedlings, vegetable seeds and other necessary provisions.
Thanks to his hard-working spirit and strong determination, Mr Phong made his dream come true! Since the start of this year, his company's staff members have helped 30 local residents set up organic vegetable gardens at their homes in the inner-city using hydroponic growing methods, and introduce this technique to the developers of 2 local projects of the same aspect, with each covering an area of over 1,000m2. Thanks to his company's operational efficiency, Mr Phong is now able to make a living to support himself and his whole family, as well as create stable employment for about 5 people.
The start-up lover is currently focusing on developing a commercial hydroponic system using the Nutrient Film Technique (NFT) is a hydroponic technique wherein a very shallow stream of water containing all the dissolved nutrients required for plant growth is re-circulated past the bare roots of plants in a watertight gully, also known as channels.
In the near future, he aims to apply the Internet of Things (IoT) in his projects. IoT is the inter-networking of physical devices, vehicles (also referred to as 'connected devices' and 'smart devices'), buildings, and other items embedded with electronics, software, sensors, actuators, and network connectivity which enables these objects to collect and exchange data. The application of IoT will help gardeners monitor their vegetable gardens, anywhere and at anytime, over the Internet through the use of IT applications on their smartphones, operated by either IOS or Android systems. It is especially useful if they are away from their homes. Meanwhile, it automatically waters and fertilises the vegetables when they reach established threshold values. There is also horticultural information on fertilisation, temperature, humidity and lighting requirements which have been drawn from reliable sources.
Another start-up lover, Ms Le Nguyen Thi Nhu Nguyen also quitted her well-paid job in a local foreign-invested company to pursue her start-up ambitions. Late last year, she opened a store named 'NongPro' selling organic agricultural products in Son Tra District. Her products meet the Viet Nam good agricultural practices (VietGap) standards.
Ms Nguyen is planning to widely introduce organic agricultural products and her vegetable growing models in the near future.
Developing start-up projects is very tough as it can involve many challenges and difficulties, and even repeated failures. However, many local young people, like Mr Phong and Ms Nguyen, are strongly determined to bring their start-up business ideas to fruition for the benefit of the whole community.


.