The city boasts great potential for start-up ecosystem
Published: July 31, 2017
As part of the recent Da Nang International Start-up Conference and Exhibition 2017, themed 'Startup Technology and Ecosystem', a discussion entitled 'Da Nang - Innovation Hub by the Sea' featured numerous ideas from famous start-up experts from both home and abroad about the perspective of start-up businesses in Da Nang.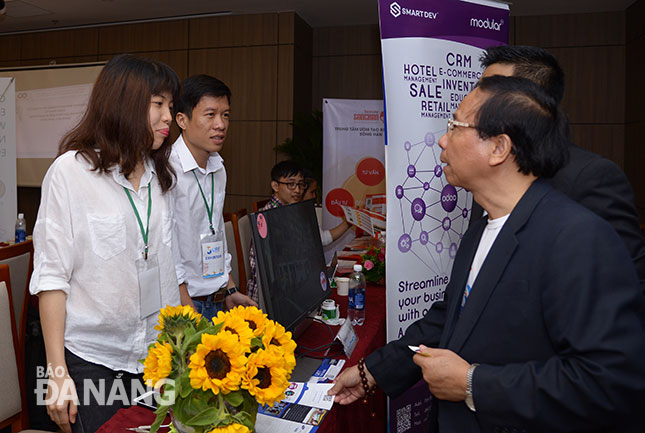 The Chairman of the Da Nang Coordination Council for the Business Start-up Network, Mr Vo Duy Khuong (right), visiting the Da Nang International Start-up Conference and Exhibition 2017
Most notable was Mr Jeff Hoffman who is a successful entrepreneur, proven CEO, worldwide motivational speaker, published author, film producer, and the producer of a Grammy-winning jazz album in 2015. He has been the founder of multiple startups and CEO of both public and private companies, and he has served as a senior executive in many capacities. Jeff has been part of a number of well-known companies, including Priceline.com, uBid.com, and ColorJar. Mr Hoffman serves on the boards of companies in the USA, Europe, South America, Africa, and Asia, supporting entrepreneurs and small businesses in more than 150 countries. He is a frequent keynote speaker, having been invited to speak in over 50 countries, on the topics of innovation, entrepreneurship, and business leadership.
During his nearly 40-minute speech, Mr Hoffman remarked that start-ups aim to deal with certain issues in life, and that start-up businesses are set up with the intention of satisfying the diversified demands of the general public. In particular, he recommended that young start-up entrepreneurs should make a list of tasks which need fulfilling and necessary start-up skills, as well as develop their staff members because the human resource is actually as important as the investment capital in ensuring the success of start-up projects.
Autodesk's Lead Strategist, Public Sector, ASEAN, Mr Chinn Lim, said that he likes the city's geographic position and the harmony between urban and natural landscapes. However, it was the local young people, with their talents, potentials and eagerness to learn, which had left him with the strongest impression. He remarked that once these young people are provided with 'tools' they will realise their start-up ambitions, and thereby inspire others to pursue their dreams.
Another speaker, Mr Bobby Liu, Senior Director of the Topica Edtech Group, also underscored that Da Nang boasts great development potential for tourism start-up activities. Also, taking its natural advantages, Da Nang is emerging as an attractive destination for 'digital nomads' who use telecommunications technologies to earn a living and, more generally, conduct their lives in a nomadic manner. Therefore, the city should develop a 'digital nomads' community to boost local start-up activities, especially in IT.
Also at the event, many experts agreed that Da Nang should fully tap the advantages of its bilateral cooperative ties with domestic and foreign partners in a bid to build a start-up ecosystem with a vision towards developing it into an innovation hub of start-up. Notably, Mr Chinn Lim stressed the need to appeal for even more assistance from the national government, State-run agencies, private organisations and other related associations to assist local young people with great potential to set up their start-up businesses.

.