The city tops ICT ranking for 9th consecutive year
Published: October 10, 2017
Da Nang has topped Viet Nam's 2017 Information and Communications Technology (ICT) applications and development readiness ranking for the 9th consecutive year.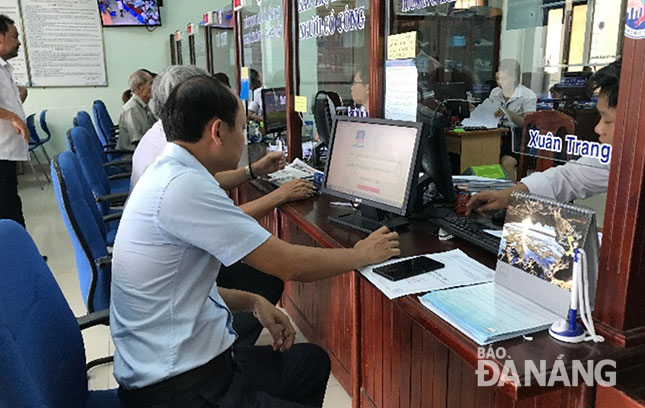 Local residents accessing online public services
Da Nang scored 0.935 points on the 1-point scale, followed by Ho Chi Minh City with 0.692, and Ha Noi with 0.669. The positive result was mainly attributed to the effective operation of the city's e-government system.
The results were announced last Friday by the Vietnamese Ministry of Information and Communications.
Director of the Da Nang Department of Information and Communications Nguyen Quang Thanh remarked that an e-government system was officially put into operation in the city in 2014 with the application of the 'one-stop-shop' mechanism, and software on managing government employees and administrative dossiers.
Director Thanh noted that over the past 3 years the city authorities have ceaselessly perfected their e-government system. This system is considered a useful tool in ensuring information exchanges between local government agencies in a quick, confidential, and synchronous manner. Furthermore, it has helped to give local residents and businesses access to clear and transparent information.
Currently, the administrators of the system are working around the clock to ensure sufficient information, upgrade new applications, and deal with any unexpected problems.
He added that 2017 marks the year of expanding the operation scope of the system with a focus on local residents and businesses. In particular, the city has offered around 40 new online public services in total since the start of this year.
Since early this year, many applications have been launched in the city in order to create direct interactions between the city authorities, and locals and visitors. In particular, the Da Nang authorities also opened a website at http://egov.danang.gov.vn/gop-y to get feedback on local public services from local residents in May.
Also in this month, Danabus, an application for smartphones launched by the Department of Transport, allows users to find suitable buses in the city for them. So far this year, a total of new 330 surveillance cameras and traffic lights have been installed at some local intersections and residential areas across the city.
In addition, a 'chatbot' application will be used for the forthcoming APEC Economic Leaders' Week which is scheduled to be held in Da Nang in November. Developed by a start-up business in the city, this application, the first of its kind in Viet Nam, will provide information about tourism and APEC meetings for local residents and visitors.
During the 2018 - 2020 period, a total of nearly 780 new public services in such aspects as healthcare, education, transportation and tourism will be offered to locals and visitors.
Addressing the announcement ceremony last Friday, Deputy Director of the Da Nang Department of Information and Communications Tran Ngoc Thach underlined "Da Nang will launch more IT applications in some aspects, especially healthcare and education, in the coming time. A multi-partner and integrated multi-application network will be developed in the city in order to give the best possible services to local organisations and citizens".
Deputy Director Thach added that the focus would be on perfecting the e-government system, simplifying administrative procedures, and putting effective and smart apps into operation after a trial period.
.