Da Nang sees importance of night-time economy
November 07, 2020, 17:47 [GMT+7]
That Da Nang is able to become one of Viet Nam's best cities for nightlife is highly likely to be within this city's reach as Da Nang government has approved to carry out a project to drive the night-time economy.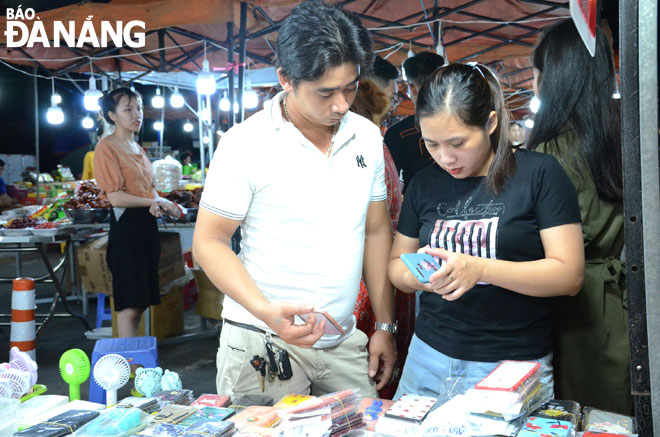 Bustling shopping ambiance captured at the Son Tra Night Market
There is no doubt that such a positive sign tourism industry accelerates the creation of new attractive tourism products which make Da Nang stand out at both home and abroad, hereby increasing visitor numbers in Da Nang, and increase their Da Nang-based holiday time and encourage their greater spending.
The night-time economy, usually dubbed as a 'gold mine' for the hospotality sector, describes economic activity taking place in the evening after many people finish daytime employment or formal education, such as eating and drinking, entertainment, and nightlife.
In reality, many domestic and foreign tourists are very excited about exploring Da Nang during the daytime, whereas the city still lacks night-time entertainment venues. As a result, Da Nang now sees short stay holidays from domestic and foreign travellers. At present, shops, entertainment venues, bars, and pubs along downtown streets that are packed with customers at night are located near residential areas. Therefore, their nighttime operation activities are not allowed to linger through midnight in order to avoid affecting locals.
A study on the development of the night-time economy in Ha Noi, Da Nang and Ho Chi Minh City shows that economic activities nationwide bustle from 7.00am to 5.00pm. However, day light consumption only generates 30% of the total tourism revenue.
Meanwhile, the favorite time for tourists to dig deep into their pockets is from 6:00pm to 3:00 am the next day and so the tourism sector earns 70% its revenue from night consumption. Therefore, it's a pity the potential of nighttime economy is left under-invested for the time being.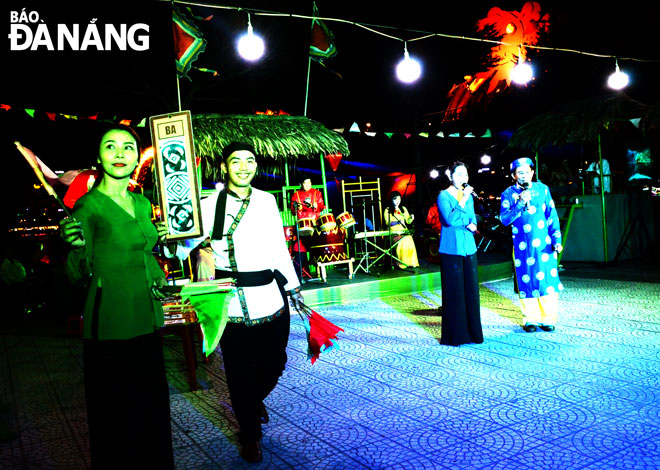 A 'bai choi''(singing while acting as playing cards) performance at the eastern end of the Rong (Dragon) Bridge captured in June
Based on these aforementioned facts, the already-approved nighttime economic development project will be carried out into three stages.
In more details, during the 2021 – 2022 stage, surveys will be conducted on certain locations for the creation of nighttime services on the principle of ensuring aesthetics, security environmental sanitation, quality, attractiveness and efficiency, and minimising their impacts on inhabitants' daily life.
The 2022-2025 period will mull over nighttime economic models in tandem with encouraging domestic and foreign investors to pour their money into nightlife projects, especially large-scale nighttime entertainment complexes which are located far away from residential areas and on par with internationally -renowned ones.
2025 onwards is expected to see the opening of nighttime entertainment complexes and fully tap this lucrative economic sector's great potential.
Local experts urged a must-do, in an immediate and drastic manner, to create a large zone reserved for pedestrian-only use in the heart of Da Nang, thereby bringing a new look to Da Nang. This area may include shopping, sightseeing, traditional services and culinary performances.
Director of the municipal Department of Tourism Truong Thi Hong Hanh revealed that, between 2021 and 2025, the top priority will be given to developing the city's noticeable brand 'Da Nang by Night', which features a series of sparkling and colourful nighttime activities and services along the iconic Han River, and 4-5 star luxury cruise ships.
With the hope of good fortune on their voyages, each trip onboard these ships is highly expected to give passengers onboard the opportunity to explore beautiful bridges which span Han River, and the community cultural and arts activities along the Bach Dang Street riverside promenade.
Last, but not least, heed will be paid to forming a chain of nighttime activities targeting both locals and visitors, by making links between the An Thuong tourist quarter and the Hoang Sa - Vo Nguyen Giap - Truong Sa coastal route; and Son Tra Night Market with new Bach Dang - Nguyen Van Troi - Tran Hung Dao pedestrian promenade project.
By THU HA - Translated by A.T
.