More funding for Da Nang startups founded by women in need
December 14, 2021, 09:50 [GMT+7]
The project for supporting women's startups in the 2017-2025 period' approved by the Prime Minister on June 30, 2017, as part of efforts to fulfil national targets on enterprise development and the national strategy on gender equality, is a good opportunity for women to start their own businesses, raise their family incomes and create more job chances in society.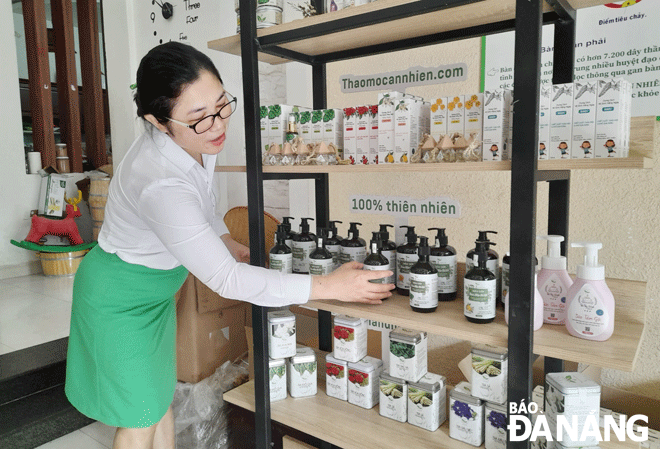 Director of An Nhien Herbal Trading Production Co., Ltd. Tran Thi Tu Quyen and the products in her startup project. Photo: T.S
The project has been actively responded by all chapters of the Da Nang Women's Union (WU)and their members throughout the city via vibrant annual activities such as the 'Women's startups – creativity' festival organised methodically at all local administration levels.
In addition, the Da Nang WU has partnered with the municipal Women's Entrepreneurs Association to carry out numerous activities to help women accumulate knowledge and start up. Notable amongst them are 'Advising and supporting women to start a business' and activities assisting members in using and disbursing funds from the 'Fund for Supporting Women's Development'; accessing to preferential entrusted loans; establish revolving loan groups, business association groups.
After five years of implementing the project, the municipal WU has received and supported 818 startup ideas from its members, including 28 ideas entered the final round of the city-level 'Startup Ideas' contest, 25 selected to participate in 'Women with the future of the green economy', 'Women start-ups- successful connection' organized by the Viet Nam WU.
In particular, a large number of ideas that have not only won national awards but have also been successfully put into practice such as the idea of 'Application of language and intellectual development for children - Building a generation of Vietnamese children fond of reading', 'An Nhien Herb', 'Smartos - An integrated platform for workspace management', 'Milky Mushroom (Nam Hoang De)'
Ms Tran Thi Tu Quyen used to be successful with a company specializing in providing consumer goods in Quang Tri Province but her business did not go as planned when she expanded the market in Da Nang. Fortunately, she was encouraged by the staff of the Thanh Khe District Women's Union to join the local startup program with An Nhien herbal products while facing many difficulties when she lost all her savings and owed a large amount of money. So far, her products have earned the trust of customers in Da Nang market as well as some other localities.
"However, our current difficulty is the problem of capital. According to the regulations, startup ideas after being appraised will be loaned from VND 50 to 100 million if feasible. The loan amount is too meagre compared to the company's current demand to expand the production scale of VND 1 billion," said Ms Quyen
The meagre capital is also the problem that "Breakfast for busy people" - the second prize at the contest "Women start-ups - creativity" has encountered. Thanks to technical support from the municipal and the district-based WU, along with the Economic Department of Hai Chau District, 9 members who are street food vendors of the group set up their website for customers to order food. However, the group could not expand its operation scale since it could only borrow up to VND 50 million from the Bank for Social Policies.
As shared by Ms Do Thi Thu Hien, Vice Chairman of Thanh Khe District WU, the common difficulty faced by women when starting a business for many years has been still loaned. A host of good ideas won prizes at the district, city, and even national levels have been stuck in the capital when they were implemented in reality. In order to access more loans, these ideas must be selected for the 'One Commune- One Product; (OCOP) programme. However, it requires a bunch of conditions on technology, environment that most ideas cannot meet to be "labelled" OCOP. Therefore, women cannot borrow more capital to expand production and business scale.
As an organization accompanied the city's women's entrepreneurship program for many years, the municipal Women Entrepreneurs Association has conducted a wide range of practical activities such as opening training courses on business knowledge, financial management, business plan development, marketing, market connection.
Nevertheless, the association has not been able to help women access loans. In addition to loans of VND 50 to 100 million from the Bank for Social Policies, commercial loans require collateral, technology lines that most women cannot respond to; therefore, they cannot extend the operation.
Reporting by THANH VAN- Translating by T.VY
.