For sake of safe and friendly city in the eyes of tourists
June 09, 2023, 11:17 [GMT+7]
The Da Nang Management Board of Son Tra Peninsula and tourist beaches and the Da Nang Visitor Support Centre under the Da Nang Department of Tourism have realised their commitment to accompanying tourists in their journey of discovering and experiencing the central coastal hub of tourism. It's worth mentioning that the rescue team has always strengthened their dangerous yet highly meaningful mission: ensuring the safety of swimmers. At the same time, they usually provide tourists with pieces of enthusiastic advice and in-kind support for tourists.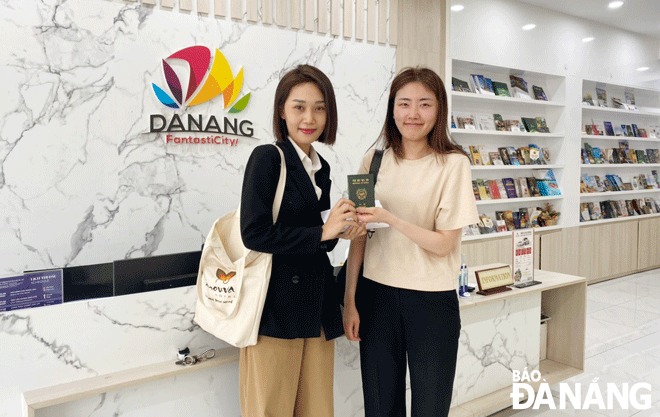 A staff member from the Da Nang Visitor Support Centre supported a South Korean tourist to retrieve her stolen passport. Photo: T.L
Marine rescue team in yellow
Whether it's a cold winter or a hot summer, the marine rescue team keeps an eye on what is happening on the water surface, focusing on the timely rescue of victims when an incident occurs.
Mr. Le Huu Huy, the Vice Captain of the Rescue Team under the Da Nang Management Board of Son Tra Peninsula and tourist beaches said, at around 4:30 a.m. every day, he and his teammates start their morning work shift at beach tourist beaches.
Immediately after a quick consultation with the team leaders, lifeguards began to take upon tasks along beaches. Each person is on duty at a certain area but all of them bear the same responsibility that any unfortunate incidents happen to swimmers is completely prevented.
The rescue team comprises of 94 people, divided into 19 working groups to carry out the task of guiding tourists how to swim in designated safe areas stretching over a total of 30km along two coastal roads: Hoang Sa - Vo Nguyen Giap - Truong Sa and Nguyen Tat Thanh.
Since 2018, the Da Nang marine rescue team has safely responded to more than 374 cases. Recently, the force promptly rescued a foreign tourist who was on the brink of getting drowned while swimming in an area with a warning sign of danger.
Due to the high waves, this swimmer was swept away by the strong waves, and fortunately, lifeguard Pham Minh Ngoc discovered and immediately used a lifebuoy to save and then assorted him to the shore. Along with that, in the rescue team, there are many brave members who have saved tourists from drowning incidents.
Mr. Nguyen Tan Tai, the leader of rescue team No. 5, said he cannot remember how many people he and his colleagues have brought back from 'the death's door', but he always keeps in his mind that being a marine rescuer is a sacred mission to protect human life.
Working on tourism beaches, marine rescuers are seen as tour guides who are willing to give support and instructions whenever they are in need. Only if holding a strong passion can the rescuers stick to their careers for a long time.
According to Mr. Le Ta, the leader of the rescue team No.19, rescuers must have enough health and skills to handle any situations and cannot make delay when detecting someone with signs of drowning. In other words, they must be always in the state of readiness to jump into the water for their rescue tasks.
Not to mention, lifeguards also have to understand certain waters so that they can prevent swimmers from bathing in deep water areas, and whenever they spot danger signs, they must signal warnings in time.
Marine lifeguards must be in charge of monitoring the eddy area daily, being ready for duties, place warning flags at dangerous areas for visitors as well as always keep a close eyes on any drowning-prone cases. For beach rescue, there are only 4 golden minutes to save people. If the drowning person is not brought ashore in time, they will be brain dead and then pass away.
In addition to rescue skills, quick reactions and good swimming, lifeguards must calmly handle situations when approaching victims.
Supporting visitors in all situations
Established in February 2013, the Da Nang Visitor Support Centre directly provides free tourist information and support tourists in any emergency situations during their stay in the city.
Over the past time, the centre has supported many tourists who could not find a hotel, lost their way, unintentionally left their property or had an accident and wanted to have their visa terms extended, along with assisted in interpreting for tourists. In case of emergency, specialists are available immediately to promptly help tourists and at any time of the day, visitors can contact the Tourism Rapid Response Team.
For nearly 10 years at the Visitor Support Centre, Ms. Le Thi Ai Chung has encountered many situations where tourists to Da Nang couldnot find accommodation and lost their property needed urgent help. Every time she received information on such certain cases, she and her colleagues were always ready to handle them for the sake of supporting tourists.
"In my 10 years of work, my colleagues and I have handled many cases related to tourists. Positive comments on their travel experience during their stay in Da Nang and their sincere thanks from visitors are quite the source of great encouragement for us to continue our work to ensure a friendly and hospitable tourism environment in Da Nang", said Ms. Chung.
In the first 5 months of 2023, the centre coordinated with relevant agencies to assist tourisms in retrieving their stolen bags or smartphones recklessly left by themselves in taxis or tourists coaches.
Ms. Huynh Thi Thien Nga, who is in charge of the Visitor Support Centre, said, "Da Nang is a tourist city, so we want visitors to keep a good impression of a friendly, safe and hospitable city. The centre is really a reliable travel companion for tourists, so it always tries to help visitors with difficult problems during their trips".
For the cases of tourists in distress, the centre's staff members are always be present at the scene to give promptly handle emergency situations facing tourists. After nearly 10 years of operation, the centre has become a place that is trusted and highly appreciated by domestic and international tourists arriving in the city.
Reporting by THANH LAN - Translating by A.THU
.