Online trading floor for OCOP Da Nang products promised
June 08, 2023, 11:40 [GMT+7]
The Da Nang Department of Agriculture and Rural Development (MARD), the municipal Department of Industry and Trade, and Tuoi Tre Newspaper have recently jointly organised a workshop on feasible measures to promote the development of made-in-Da Nang OCOP (One Commune - One Product).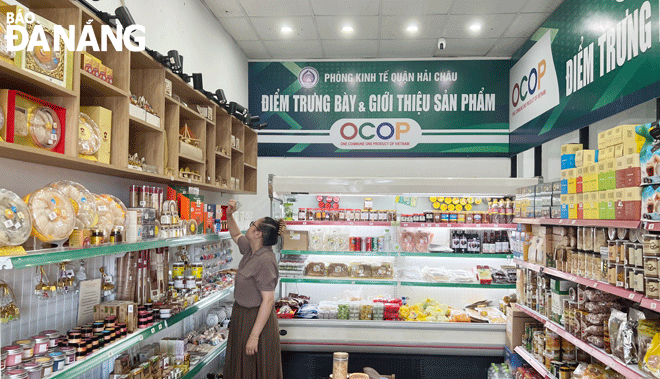 A store trades in OCOP in Da Nang. Photo: M.A
As reported at the workshop, after 3 years of implementing the OCOP programme, Da Nang has housed 64 OCOP products that have demonstrated the characteristics and advantages, and promoted community values in the products.
However, the city's OCOP programme still has limitations. In reality, many organisations and individuals have not yet approached and fully aware of the standards and quality of OCOP products. Also, the number of products is not equal among industry groups as most of them belong the food group, instead of the field of tourism in which the city shows off strengths and potential.
As its future targets, by 2025, Da Nang will have 135 OCOP products classified and recognsed from 3 stars or more, and all of the 56 wards and communes will develop their own OCOP products.
Director of the Da Nang Department of Agriculture and Rural Development Nguyen Phu Ban said that participating in OCOP is a practical and effective way to standardise products and trade processes, along with helping customers to feel secure whilst consuming such products.
In the near future, the Department will partner with the Viet Nam E-commerce Association in the central region to build an exchange platform for not only OCOP products, but also seafood products because Da Nang houses the Tho Quang fishing wharf where with many fishing boats hailing from the Central region anchor to bring freshly-caught seafood to the shore.
Given this trading floor, fresh seafood collected Tho Quang fishing wharf are kept in standard storage warehouse for the delivery to customers in other Vietnamese localities and event foreign coutries, especially is in Laos.
Reporting by HOANG HIEP - Translating by A.THU
.