Startup Fellowship 2023 programme launched
June 07, 2023, 12:26 [GMT+7]
SK Startup Fellowship (SKSF), annually run by the SK group, which is the second-largest conglomerate in South Korea, has started this year's mission to discover high-potential early-stage startups and provide them with non-equity grants and mentorship opportunities with SK's network of experts while building a long-lasting companionship.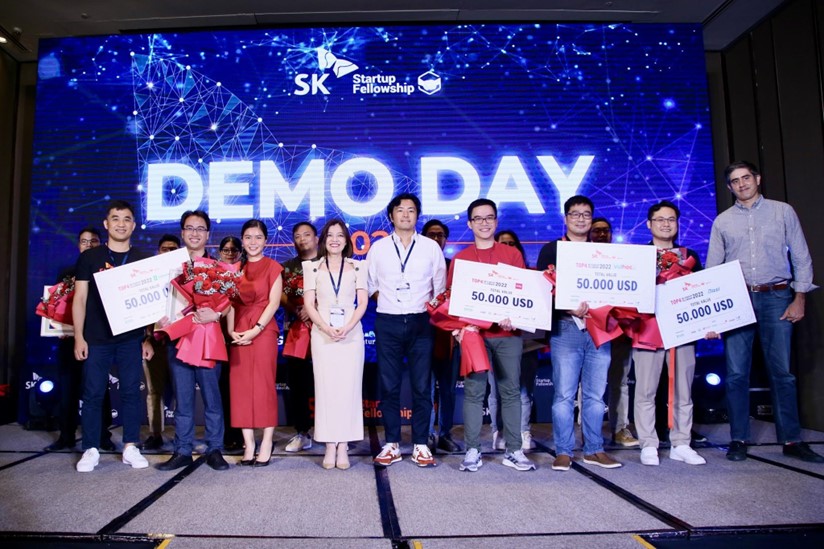 Outstanding startups receive awards at Demo Day of SK Startup Fellowship 2022.
At the same time, the programme strives to build long-lasting relationships with all the startups and continuously offer support to SKSF's circle of alumni.
This is an opportunity for Vietnamese startups to learn more entrepreneurial experience, expand international cooperation and pitch their business to capital investors from the South Korean market.
Only 10 startups will be fully funded to come to this foreign country to connect with startups and investors there.
In particular, three most excellent startups shortlisted from the top 10 will receive a non-convertible grant of US$50,000 each, along with in-kind support comprising of mentoring, investor pitch, business network and a sponsored trip to South Korea.
The remaining 7 startups will receive $15,000 each in funding and the same in-kind support.
In addition, the top 10 startups will also be supported with non-financial items such as building a quality business network with SKSF's member network throughout the partners, and member companies in the SK Group's ecosystem to seek business cooperation opportunities.
At the same time, they will have the chance to participate in an intensive 1:1 mentoring programme that connects startups directly with highly seasoned experts.
The total value of this year's awards is up to US$ 265,000 with many exclusive benefits. Startups wishing to register for the competition can apply at https://skstartupfellowship.vn/apply/.
The applications should be summited no later than June 16.
As for eligible criteria, the event is open to startups that have recorded revenue generating, exception for tech companies with patent and prototype; preferably having completed at least one fundraising round, for instance angel, pre-seed and seed; being active in all sectors, with preferably education, medicine/bio, fintech, (deep) tech focused; working to address sustainability issues.
SK has more than 100 subsidiaries that operate across over 40 countries. SK has been expanding globally with the society and our partners under the key principal of "growing together".
Since 2020, SK Group has directly ran SK Startup Fellowship, demonstrating its commitment to long-term investment in the Vietnamese market.
Reporting by VAN HOANG - Translating by A.THU
.