Starting up with naturally-pure products: Good wine needs no bush
June 08, 2023, 10:22 [GMT+7]
Showing off knowledge as a Chemistry teacher, Ms. Dang Thi Viet Ha, the owner of a facility manufacturing herbal products for body care Moc Moc, located at 56 Nhat Chi Mai, Hoa Tho Dong Ward, Cam Le District take advantage of learning more experience from domestic and foreign scientists to create some products totally from natural herbs.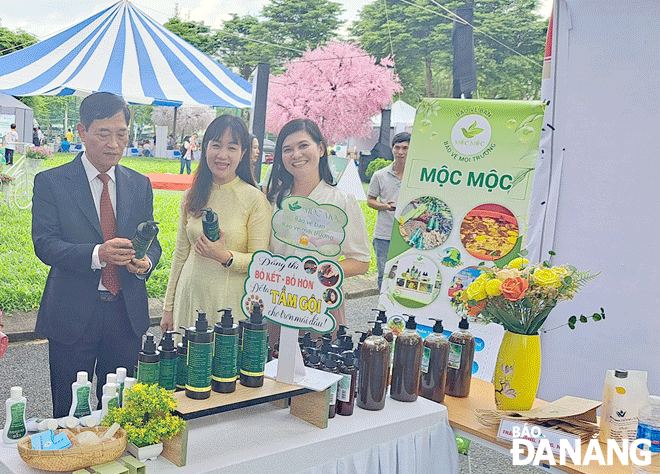 Moc Moc herbal health care products have been brought into the commercial distribution system. Photo: H.H
From her own success, Ms. Ha has helped a number of women start their own businesses by manufacturing and selling their own products.
In 2020, when many students and teachers spent many school days off due to the COVID-19 outbreak, Ms. Ha and her son stayed at home to follow the instructions of experts and scientists on the treatment of some types of organic waste to make useful products at home such as shampoo, soap and dishwashing liquid...
Not only for use by her family, Ms Ha's products have been highly recommended for her friends, relatives and neighbours.
Thanks to her Chemistry knowledge, the woman has conducted research and adjusted the content, ingredients and flavoirings so that the products can take the best care of the body.
The products and essential oils are derived from natural medicinal herbs, without the use of industrial chemical fragrances, so they have a pleasant and safe fragrance.
"Good wine needs no bush" as more and more consumers in Da Nang and other localities have used her products with trust, even donated raw materials to for Ms. Ha to expand production. .
Over the past time, the COVID-19 pandemic has had a significant impact on social life, resulting in unemployment. To help each other create jobs and earn more income, Ms. Ha gave detailed instructions, even providing probiotics, enzymes and recipes to make products for some local women, thereby helping everyone start a business by linking production and trading of these products.
Ms. Dang Thi Hong Thu, Hoa Tho Dong Ward, Cam Le District said that when she was unemployed, she linked with Ms. Ha to produce such naturally-pure products, bringing in an income of VND 6 - VND7 million/month.
Currently, the main startup products of Ms. Ha and some associated women include shampoo, hair conditioner, herbal shower gel, aloe vera cleanser, turmeric and honey facial cleanser, betel nut soap, turmeric soap and deodorant wax.
These products are manufactured entirely with natural ingredients by manual methods that Ms. Ha has researched and highly evaluated by users.
According to Ms. Ha, many consumers are tending to return to using products made with natural, environmentally friendly materials and taking care of their body and health. The production of shampoo, shower gel, bar soap and dishwashing liquid is based on manual methods and naturally brewed preparations, without the use of chemicals, so it does not require a lot of capital.
"Starting a business from the production and trading of these products does not appreciate nor pursue something great such as large profits. Actually, Ha's startup aims to create good products and job opportunities to help unemployed women. Women can take advantage of their free time and materials that are in the house, garden or collected from other outside sources. I often participate in environmental improvement activities organised by relevant agencies to share my knowledge and experiences with many people so that they can make products and make earn money to cover their daily life expenses.," said Ms. Ha.
Recently, the products labelled Moc Moc produced by Ms. Ha and her collaborators have received the great attention and support of a number of relevant agencies and social organisations in creating opportunities to raise the consumption of products.
Ms. Ha confided: "In the coming time, I hope to continue to receive the attention of many consumers to help consume more products. This startup gives women a part-time job with extra income, while still taking care of their families."
Reporting by HOANG HIEP - Translating by A.THU
.