SHB DN tests out foreign players
Published: January 18, 2016
SHB Da Nang Football Club has recently been trialling a number of foreign players in preparation for the 2016 V-League season which begins on 14 February. They are Goran and Uros Stoianov from Serbia, Vladislav Aleksandrovich Ivanov from Russia, Horace James from Jamaica, Ramiz Pasiov from Germany, and SHB DN's former Argentinian striker Sebastian Gaston Merlo.
Goran and Uros Stoianov were judged not to be up to the standards expected by the coaching board and have been released.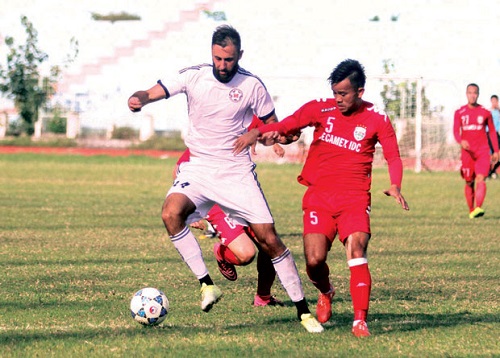 Ramiz (in white)
Russian striker Ivanov has impressed the coaching board thanks to his ability to play as both an attacking midfielder and a striker. He was top scorer in the 2012 Estonia National Championships with a total of 23 goals.
Macedonian-German striker Ramiz is 1.93m tall and 28 years old, but he has scored only 26 goals in his 9 recent football seasons.
Despite his high-level skills, Horace James has difficulty in interacting with his teammates due to being 32.
Argentinian striker Merlo is reintegrating into football after a break for injury treatment.
In addition, SHB DN has Vietnamese-American player Minh Alve Vu on trials. Born in Tucson, Arizona to a Vietnamese father and a Spanish mother, the 26-year-old was playing for Rochester Rhinos in the 2014 United Soccer League (formerly USL Pro).
34-year-old midfielder Dinh Van Ta from Vissai Ninh Binh is also having trials with SHB DN.
The 2016 Hoang Anh Gia Lai Open Friendly Football Tournament begins today, 18 January, which will provide a good opportunity for SHB DN's coach, Le Huynh Duc, to test the skills of the new recruits and select the best players for the coming season.
.