Da Nang to welcome international regatta
Published: January 15, 2016
Vietnamese sailor Nguyen Tran Minh An will team up with the Da Nang-Viet Nam team in the race from Airlie Beach in the Whitsundays, Australia to Da Nang port during the world's longest ocean race, the Clipper 2015-16 Round the World Yacht Race.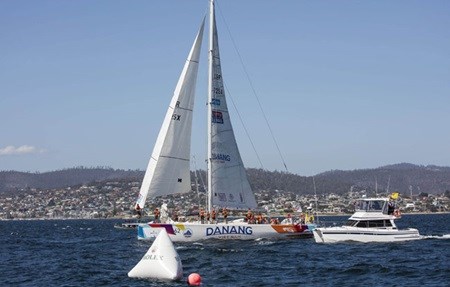 Winner of the Sydney Hobart Clipper Yacht Race Da Nang Viet Nam at the finish line in Hobart on December 30, 2015. (Photo: countersy of organisers)
The Da Nang People's Committee announced in a press conference that the city will host as a home team port on February 17-27.
The 28-year-old sailor, who had completed pre-race tests in Australia in preparation, said the other competitors and their family members will receive warm welcomes from local people as well as beautiful food, pristine beaches, white sand, sun and smiles.
The local sailor, who works as a tug boat driver for Da Nang port but has no previous ocean racing experience, will join the Da Nang-Viet Nam team for the 4,130 mile stretch from Australia to Da Nang.
This leg, the seventh of the 14-stage global series, starts on January 18 and will take almost a month to complete.
Vice Director of the city's Culture, Sports and Tourism department, Tran Chi Cuong said the city will host various cultural festival, business and tourism promotions when Da Nang hosts the race in February.
Vice Chairman of the city's People's Committee, Dang Viet Dung said the city prepared for hosting the race by dredging the Han estuary.
The 2015-16 race marks the first time in the Clipper Race's nineteen-year history that Da Nang is featured as a team and a host port on the race's global circuit.
The Clipper 2015-16 Race started in London in August and takes eleven months to complete. Its 40,000 mile circumnavigation is divided into shorter legs so crews can choose to take part in either the whole race or one or more legs.
Up to 24 crew members, aged 18 to over 70 of various nationalities and backgrounds, live together on board each of the fleet's twelve 70-foot racing yachts.
Clipper Race teams are currently making their way to Sydney after already completing stops in Rio de Janeiro, Cape Town, and Albany, Western Australia. The race participants are expected to arrive in Da Nang city between February 17-21.
From Abell Point Marina, Airlie Beach in the Whitsundays, the Clipper 70 fleet will race onto Da Nang, Viet Nam.
(Source: VNA)
.