Plans discussed for display of exhibits at Hoang Sa Exhibition House
Published: January 20, 2016
A discussion took place in Da Nang on Tuesday about plans for the display of exhibits at the Hoang Sa Exhibition House. The event marked the 42nd anniversary of the date, 19 January 1974, when China completed their military occupation of the Hoang Sa archipelago.
The 4-storey exhibition house will display around 500 documents and artifacts grouped according to 5 themes: the geographical position and natural conditions of the islands, Viet Nam's sovereignty over the archipelago during the reign of the Nguyen lords, Hoang Sa in old Vietnamese bibliographies issued before and during the feudal Nguyen Dynasty over the 1802 - 1945 period, and Viet Nam's legitimate sovereignty over the islands in the 1945 - 1975 period, and since 1975.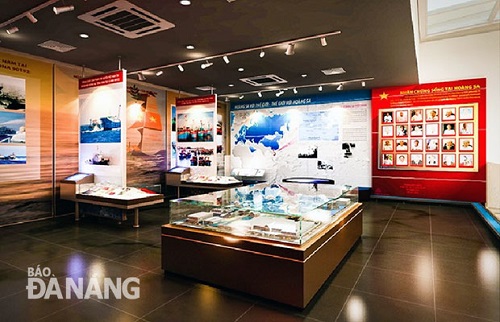 A model of a display area at the exhibition house
Discussion participants highlighted the significance of the construction of the house which will help to show the special love Da Nang residents, and Vietnamese people as a whole, have for the islands illegally occupied by China. They suggested that the displays should ensure that visitors to the house will be deeply impressed by the artifacts which prove Viet Nam's legitimate sovereignty over the islands since the 17th century.
It was suggested that there should be some domestic and foreign books and newspapers on display which feature China's illegal actions in the Hoang Sa and Truong Sa archipelagos over recent years in order to strongly denounce China's conspiracy to unilaterally occupy the East Sea.
The former Chairman of the Hoang Sa Islands District People's Committee, Mr Dang Cong Ngu, proposed that the 'Nam Quoc Son Ha' (Rivers and Mountains of the Southern Nation) poem, which is considered to be Viet Nam's first declaration of independence, should be displayed at the house. The intention is to show the Vietnamese people's strong determination in the struggle to claim national sovereignty over Hoang Sa.
In addition, the damaged fishing boat DNa 90152, which was capsized by a Chinese boat on 26 May 2014, should be displayed in a separate area where the 'Cau Ngu' (fish worshipping) and 'Le Khao Le The Linh Hoang Sa' (Hoang Sa Soldiers Feast and Commemoration) festivals could be held annually.
The Director of the Museum of Da Nang, Mr Huynh Dinh Quoc Thien, remarked that a printer will be installed at the house to allow visitors to print and save whatever they want.
Mr Vo Cong Chanh, the current Chairman of the Hoang Sa Islands District People's Committee, urged the Department of Culture, Sports and Tourism to recruit guides with good foreign language skills to serve international visitors as soon as the exhibition house opens to the public later this year.
.