2016 Spring Flower Festival ends
Published: February 16, 2016
The 2016 Spring Flower Festival at Da Nang's 29 March Park came to an end last Sunday. The event's organising board received 1,420 bonsai exhibits during the festival. Notable medals were awarded to 29 of them, whilst another 13 received consolation prizes.
Within the framework of the event, a wide range of cultural activities were organised for local residents and visitors.
In particular, a drawing contest with 'Da Nang - The Spring of Love' as its theme attracted 450 entries. Outstanding entries were awarded 7 gold, 16 silver, and 17 bronze medals, along with 12 consolation prizes.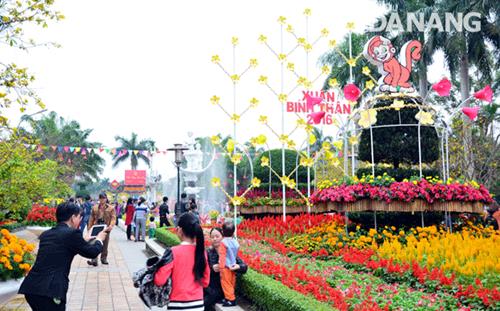 Visitors at the 2016 Spring Flower Festival
Sixty child models aged between 3 and 10 participated in a star fashion model contest entitled 'The Spring Dolls'. From among them, 2 first, 3 second, 5 third, and 6 consolation prizes were given to outstanding contestants.
A singing and dancing contest entitled 'Walking in the Spring Sunshine' featured 65 impressive singing and dancing items by child contestants. In the end, 3 gold, 3 silver and 4 bronze medals, along with 4 consolation prizes, were awarded to the best contestants.
A total of 275 young people took part in an artistic talent competition. They competed in solo, duet, and group singing, dancing, Master of Ceremonies (MC) skills, fashion shows, techno-hiphop dancing, and beatbox. Gold medals were given to 13 of them, whilst another 19 each received a silver medal.

.