Tran Anh Hiep – a devoted athletics coach
Published: February 11, 2016
In 1996 Tran Anh Hiep from Da Nang, then 21 years old, gained a place in the national walking team and he soon excelled in the men's 800m and 1,500m events. Unfortunately, his career ended unexpectedly early due to a serious injury in 1999. Leaving the national team, he became an assistant to a Chinese walking expert for the next 3 years, but disagreements in management styles soon ended their relationship.
Since 2004, Hiep has been working as a walking coach at the Da Nang Athlete Training Centre which is under the management of the municipal Department of Culture, Sports and Tourism. He has made great efforts to help many local walkers gain remarkable achievements over the past 12 years.
Da Nang's 26-year-old female walker Nguyen Thi Thanh Phuc and her younger brother Nguyen Thanh Ngung have been coached by Mr Hiep since 2004, and they have recorded numerous outstanding achievements over those years.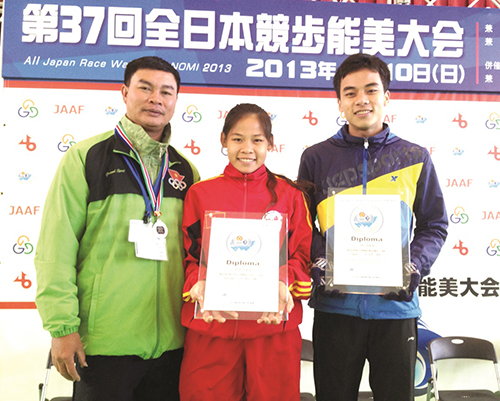 Coach Tran Anh Hiep (left), walker Nguyen Thi Thanh Phuc (middle) and her younger brother Nguyen Thanh Ngung (right)
In 2005, when only 15, Phuc won her first gold medal at the municipal-level Gifted Young Athletes Championships. Since then, she has faced little competition in the women's walking events at national level, and she won gold medals at the 26th, 27th and 28th SEA Games.
In March 2012, Phuc won the bronze medal in the Asian 20km Race Walking Championships in Nomi Shi, Japan, whilst her younger brother Ngung came sixth in his event. Finishing her event in 1 hour 35.15 mins, nearly 3 minutes faster than the Olympic B qualifying standard, Phuc earned a place in the 2012 Olympic Games in London. There, she came 36th out of the 61 competitors in the women's 20km walk, finishing in a time of 1 hour 33.36 mins. This time broke her own Viet Nam national record which she had set in Japan.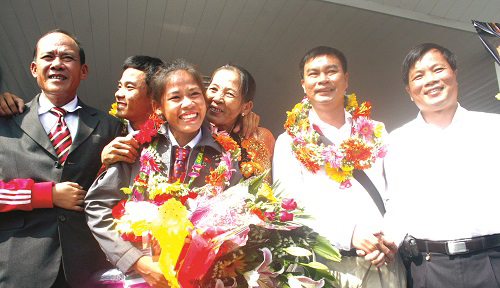 Hiep (second right) at the 2011 SEA games
In 2009, coach Tran Anh Hiep got married to Nguyen Thi Hong, also from Da Nang, and the couple now have a 3-year-old child.
During his married life, Hiep has devoted most of his time to training athletes and accompanying them to national and international competitions. He says that sometimes he feels guilty for not being with his family on certain special occasions, especially when his wife gave birth to their baby, and the celebrations for his baby at one month and one year old.
This Tet Festival, the dedicated coach will be absent from home once again providing an intensive training course for his trainees in preparation for the Asian 20km Race Walking Championships 2016 which will be held on 30 March, again in Japan's Nomi Shi.


.