Floral displays and lighting decorations for Tet
Published: February 02, 2016
Da Nang has spent around 3.7 billion VND decorating some of the city's major streets with flowers for the Tet Festival.
A representative from the Green Trees-Park Company said that 80 of the company's employees have been installing the floral decorations across the city. About 20,000 pots of colourful flowers are being used in the displays, mainly sourced from Hoa Vang District and some northern localities.
A vacant area at the western end of the Rong (Dragon) Bridge, across from the Museum of Cham Sculpture, features eye-catching floral decorations such as flower doorframes, boats and wooden vehicles. Many different kinds of flowers are being used, including cockscombs, marigolds, chrysanthemums and petunias. Also on display are mounds of straw and rice straw-woven items, as well as re-creations of images of rural areas.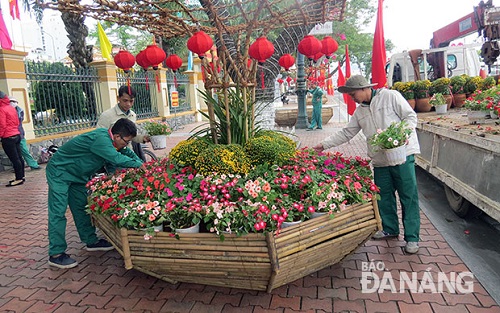 Some Green Trees-Park Company employees creating floral displays
Floral displays are also being installed in a public park at 84 Hung Vuong, on the roundabouts at the western end of the Tran Thi Ly Bridge, and the junctions of Nguyen Van Linh and Hoang Dieu, and Nguyen Van Linh and Nguyen Tri Phuong. Further displays have appeared along a section of the Bach Dang riverside walk, opposite the headquarters of the municipal People's and Party committees.
The previous welcome gates along Nguyen Van Linh are being replaced with new ones. In addition, new displays are being installed along a section of Bach Dang between the Dragon Bridge and the Dien Hai Citadel, at the intersection of Tran Phu and Ly Tu Trong, and along a section of Tran Hung Dao between the Han River Bridge and Olalani Riverside Towers.
Lighting systems are being installed along a section of 2 September Street from its intersection with Phan Dang Luu to the Asia Park area, and along a section of Dien Bien Phu between the Nguyen Tri Phuong roundabout and the Statue of Vietnamese Heroic Mother Nhu.
Most notably, 3 large replicas of bell-shaped peach blossoms are now on display at the intersection of Nguyen Van Linh and Tran Phu.
.