Ready for bustling traditional spring festivals
Published: February 09, 2018
Between the 1st and 3rd months of each lunar year, numerous traditional village communal house festivals are held across Da Nang. These events have become an indispensable spiritual food for local residents.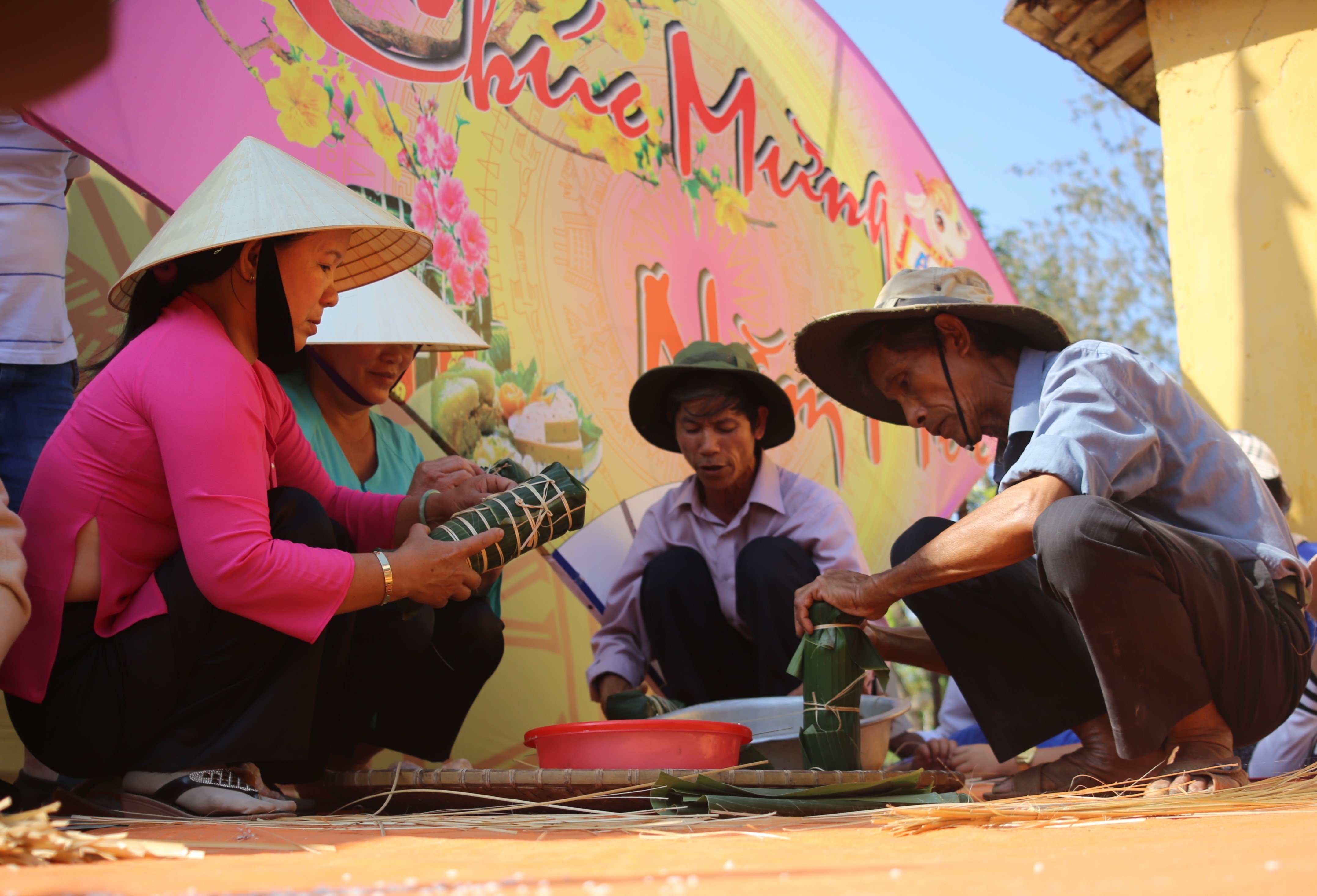 Making 'banh chung' (square glutinous rice cakes)
Notable amongst these cultural events are the Tuy Loan Village Communal House Festival which is held annually on the 9th and 10th days of the 1st lunar month.
The event aims to pray for peace and prosperity through the year, as well as to remind the younger generations of long-established Vietnamese traditions, preserve and promote the village's cultural identity.
This year's 2-day event will take place in Hoa Vang District's Hoa Phong Commune on 24 and 25 February.
It will feature many solemn rituals, including a royal honour ceremony to confer diplomas, incense-offering and gift-giving ceremonies in commemoration of national heroes and ancestors.
Meanwhile, visitors to the festival will be treated to such various folk games as 'bai choi' (singing while acting as playing cards) performances, and exciting activities to honour the traditional crafts of making 'banh trang' (rice paper) and 'banh tet' (cylindrical glutinous rice cakes).
In particular, one of the much-awaited events during the festival will be a 'ho khoan' singing (a type of Vietnamese folk song) contest on the Tuy Loan River with the participation of 4 teams in total from the village.
This fascinating activity aims to hail the love for the homeland, the village's distinctive cultural characteristics and time-honoured traditional crafts.
Last, but not least, there will be food courts featuring a large number of mouth-watering rustic but strangely attractive dishes. These include 'mi Quang' (Quang noodles), 'banh it' (sticky rice cake ), and especially Tuy Loan rice paper featuring unique method of production with amazing flavours of garlic and ginger.
Over the past 2 decades, sections of the Cu De River which runs through Lien Chieu District's Hoa Hiep Ward have enlivened with an annual district-level Open Boat Race.
This year's race will feature men's and women's team categories, with the participation of fishermen, mainly specialising in seine and drag net fishing, from Da Nang and Quang Nam Province.
Various prizes worth 50 million VND in total will be given out to winners.
A total of 5 men's teams will hail from the wards of Hoa Hiep Bac and Hoa Hiep Nam in Lien Chieu District, Hoa Vang District's Hoa Lien Commune, and Quang Nam Province's Duy Xuyen District.
Meanwhile, 5 women's teams will come from Hoa Hiep Bac Ward and Hoa Lien Commune, the districts of Ngu Hanh Son and Cam Le, and Duy Xuyen District.
.