Reopening schools safely in Da Nang
February 15, 2022, 18:15 [GMT+7]
Monday, February 14, marked the first time back in the classroom for sixth graders and students at some universities after a long time of virtual learning at home due to the COVID-19 pandemic. The schools are taking proactive measures for COVID-19 prevention and control. In addition, they are adopting flexible teaching that is an approach to course design and delivery that helps students learn and succeed in any mode – face to face, online, or hybrid.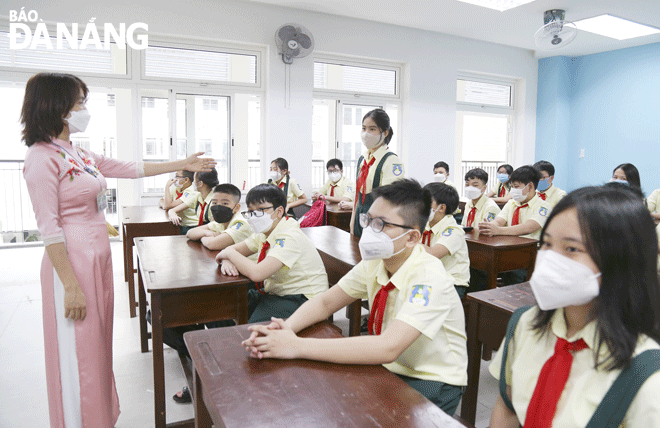 A teacher and six graders in a class at the Trung Vuong Junior High School located in Hai Chau District on the first day of school. Photo: NGOC HA
Tightening anti-virus measures in schools
The schools are opening with the protective measures in a bid to maintain the environment that are as safe as possible for their teachers and students. The focus is on using lane separations for students at entry and exit points in order to limit crowding at these areas in addition to putting in place other precautionary measures such as conducting body temperature checks on students and asking them to disinfect their hands before entering the class. In addition, high priority is given to developing protocols for the referral, tracing and isolation of students and staff who are exhibiting COVID-19-related symptoms or with confirmed diagnoses.
Meanwhile, universities across Da Nang have prepared themselves for the return of in-person instruction in the new normal. The automatic hand sanitizer system, body temperature measurement devices, QR code check-in system and more are available to university students in an attempt to ensure a safe return to in-person School for them.
Sixth graders and university students were excited and happy on first day back at school.
Nguyen Dang Luan , a six grader at the Trung Vuong Junior High School located in Hai Chau District, said he felt nervous when he set foot in the school for the first time. Like other six graders, Luan was delighted to receive a warm welcome from their homeroom teachers upon arrival at school. During the first day back to school, six graders were recommended to closely follow coronavirus precautions to protect themselves and others.
Le Dinh Y, a first-year student at Dong A University could not hide her joy when she stepped into the university for the first time. She said that she received active support from the school's youth union members in order to help her quickly adapt to her new school.
Adopting flexible teaching
Educational establishments located at areas under alert level 3 across Da Nang have resumed in-person teaching for first week. In addition, teaching staff, school pupils and university students living at alert level 3 areas are allowed to attend in-person classes.
Ms. Pham Thi Hoa, the Principal of the Le Do Junior High School located in Son Tra District said that there are no teachers and students who are residing at alert level 4 areas in the school. However, there are 3 teachers who are the primary close contacts, along with 65 students who are infected patients and 228 others who are the primary close contacts, Ms Hoa added. Therefore, the school is implementing blended learning approach that can combine the best of both traditional and online instruction to offer engaging learning experiences for students who are attending physical classes and are self-isolating at home in efforts to keep quarantined students learning.
Mr. Ho Ngoc Hung, Principal of the Trung Vuong Junior High School located in Hai Chau District said that government's approval for attendance of teachers and students living at alert level 3 areas has received strong support from the public. Mr Hung remarked that the safe reopening of schools will provide mental health and psychosocial support for students, especially sixth and ninth graders, and improve the quality of education in schools.
Reporting by NGOC HA – translating by H.L
.