Measures to beef up post-pandemic tourism recovery in East Asia in discussions
May 28, 2022, 17:13 [GMT+7]
The 11th East Asia Academic Exchange Forum themed 'Tourism Recovery in the East Asia' has taken place in a hybrid form at Da Nang-based Dong A University in combination with broadcast points in Japan, South Korea and China.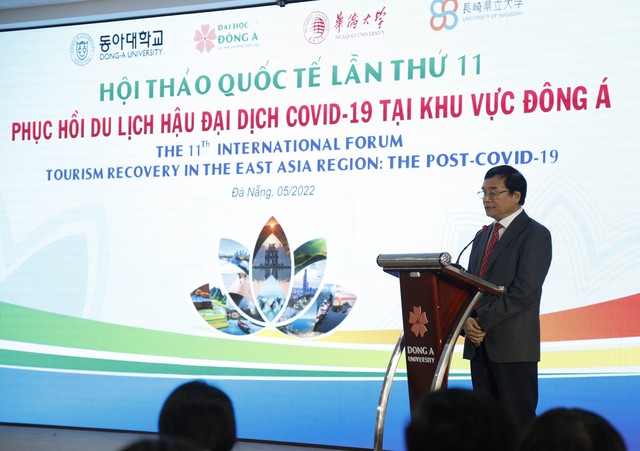 The leader of the Dong A University delivers a speech at the Forum (Photo: https://toquoc.vn/)
The aforementioned event was as part of the Asia-Pacific Academic Exchange Forum - an annual international forum between universities with the goal of contributing to the exchange of academics, scientific research results and training in order to boost the socio-economic development in the region.
The forum featured 11 specialized speeches delivered by more than 20 international experts from institutes and universities in Viet Nam, Japan, South Korea and China, including those from 4 member universities: Nagasaki University in Japan, Dong-A University in South Korea, Huaqiao University in China and Dong A University in Viet Nam.
The event attracted the participation of many scholars and young researchers, students from research institutes, universities, and specialised faculties of management and tourism at Vietnamese tertiary establishments.
Throughout the forum were interdisciplinary and multidisciplinary scientific perspectives with analysis and applications in many different aspects technological solutions in tourism; technology education and human resource training; researching and developing new tourism forms; post-COVID-19 tourism re-planning; the value of culture, history and society in recovering from the COVID-19 pandemic.
It is known that the 12th East Asia Academic Exchange Forum will be held at Japan-based University of Nagasaki.
Reporting by NGOC HA – Translating by A.THU
.