ASEAN maritime forums being held in the city
Published: August 26, 2014
The 5th ASEAN Maritime Forum (AMF-5) and the 3rd Expanded ASEAN Maritime Forum (EAMF-3) are taking placing in Da Nang from 26 - 28 August.
The events are being attended by representatives from the 10 ASEAN member nations and the 8 East Asia Summit (EAS) partners of China, Japan, South Korea, India, Australia, New Zealand, Russia and the USA. A Vietnamese group led by the Deputy Minister of Foreign Affairs, Mr Pham Quang Vinh, is attending the 2 forums.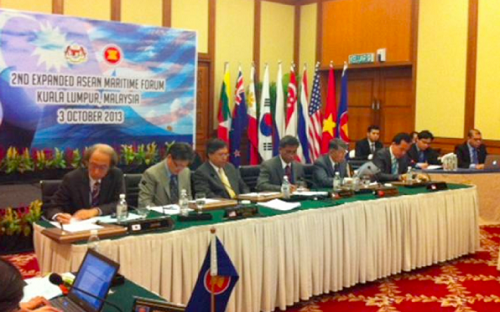 Participants at the 2nd Expanded ASEAN Maritime Forum in Malaysia
The forums are dialogue channels for the participants to discuss issues relating to building trust and ensuring maritime security and safety in the East Sea on the basis of international laws, the 1982 UN Convention on the Law of the Sea (UNCLOS), and the Declaration on the Conduct of Parties in the East Sea (DOC), and working towards a Code of Conduct in the East Sea (COC).
At the 2 events, the participants are discussing maritime situations and cooperation in the region, evaluating the implementation of initiatives which were raised in previous forums, and setting future orientations for the AMF and EAMF. They are also sharing experiences in marine research, disaster response, maritime security connectivity, marine eco-environmental protection, search and rescue activities, and the prevention and management of incidents and crises at sea.
.