Trying to fulfil the wishes of the poor
June 12, 2022, 22:55 [GMT+7]
The Son Tra District Association of Charities and Children's Rights Protection in Da Nang has conducted loads of high-efficiency activities to help poor households having children and vulnerable people, contributing to poverty reduction and ensuring social security.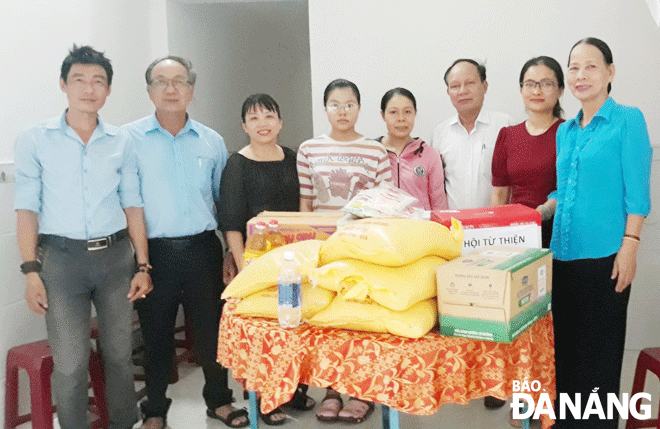 The Son Tra District Association of Charities and Children's Rights Protection supports poor households having children with many necessities in 2021. Photo: LE VAN THOM
On an annual basis, the association has actively cooperated with the People's Committees of wards in the district to organize surveys and find out the need for support of poor households, giving priority to poor households having children and focusing on multidimensional poverty reduction solutions. Through the survey, the legitimate and appropriate aspirations have been quickly and promptly resolved by the association.
Taking the case of Ms Le Thi Thanh Chi resides in An Hai Tay Ward as a typical example, her children and she used to live in a badly damaged house. The association mobilized to support Ms Chi 50 VND million to build a new house and 14 VND million to buy a sugar cane juice cart for her to earn money, and tables for her children to study. Thanks to that, Ms Chi has gradually expanded her refreshment shop which attracts an increasing number of customers. She has been recognized as a sustainable poverty escape in 2021.
Meanwhile, Ms Pham Thi Thuy Lai, residing in Tho Quang Ward, who lost her husband due to a serious illness, has currently raised her three children alone and had a very difficult life. According to Ms Lai's wish, the association coordinated to mobilize the support of VND135 million to help her build a spacious new house. She also used this support package to open a grocery store, persistently striving to overcome difficulties. In addition, associations at all levels have regularly paid visits and given gifts to help Ms Lai to raise her children.
Over the past time, despite facing many difficulties due to the COVID-19 pandemic, the association has called for funds to support building new and repairing houses for 14 poor households with children, sponsoring long-term study for 50 needy students, annually awarding more than 100 scholarships to children of poor and disadvantaged households; regularly cook porridge support, poor patients, at hospitals citywide. The association's attention and support have helped many students overcome difficulties and feel at ease to pursue their academic dreams.
Every year, the association has tried its utmost to connect and mobilize benefactors to support the poor. Typically, Mr Chau Van Quyen residing in Man Thai Ward has supported the construction and mending of five houses for the poor and handed over 150 gifts each year to poor households having children.
In the same vein, Master Thich Chuc Tam, Abbot of Tan Thai has annually donated VND 200 million for the association's programs and activities. In particular, although Ms Phan Thi Thanh Huong residing in An Hai Bac Ward has not had a high income, she has voluntarily provided long-term support for five poor students with an amount of VND 300,000/month/student.
With enthusiasm and compassion, The Son Tra District Association of Charities and Children's Rights Protection has regularly organized a host of humanitarian programs with thousands of people being helped each year, making an important contribution to achieving the goal of poverty reduction and the ensuring of social security in the locality.
Moreover, with many outstanding achievements, the Association has been rewarded 6 times by the Chairman of the municipal People's Committee and the Central Committee of the Viet Nam Association for the Protection of Children's Rights.
Reporting by LE VAN THOM- Transating by T.VY
.