Extra precautions put in place at Da Nang's traditional markets
August 24, 2020, 11:38 [GMT+7]
Extra precautions are being taken at traditional markets across Da Nang in the wake of the coronavirus outbreak, while the Da Nang government has urged its residents to raise their alert for coronavirus to higher level and strictly follow preventive measures in a bid to to minimise the risk of spreading the virus.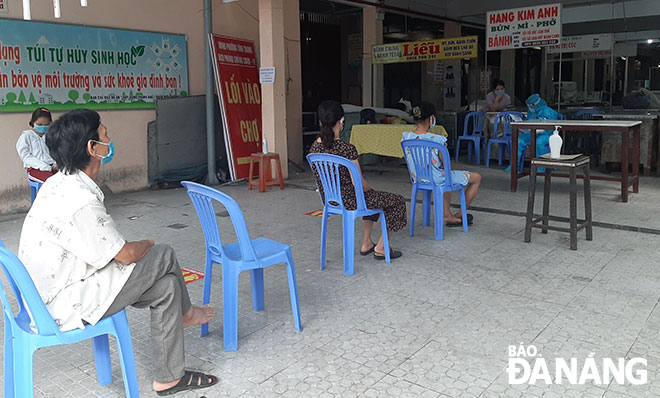 More than 150 people living near Tan Lap Market located in Thanh Khe District had their swab samples taken for coronavirus testing on 22 August
Mr Ho Thuyen, the Chairman of Thanh Khe District People's Committee said that the traditional markets of Tan Lap, Sieu Thi (Supermarket) and Lau Den, have closed their doors following new positive cases recorded here.
Meanwhile, the remaining markets across the district are allowed to stay open, provided that more drastic measures must be put in place. Over recent days, a combined total of more than 2,200 stallholders and market-goers in the district-based traditional markets, and residents living nearby have had their swab samples taken for coronavirus testing.
In other local districts, all market stallholders and market- goers, plus workforce staffing the traditional markets have fully practised preventive measures by wearing face coverings, using sanitizer gel, maintaining a 2 metre distance from others, and undergoing compulsory body temperature measurements.
Staff members of the management boards of local traditional markets have conducted regular patrols to ensure the strict compliance with the physical distancing mandates.
During body temperature screening, anyone who appears to have symptoms upon arrival at the market, a cough or fever for instance, will be separated from others right away, and immediately be reported to local health authorities for further monitoring.
In Cam Le District alone, medical workers have taken swab samples for testing from 1,153 stallholders in the markets of Hoa Cam, Hoa Phat and Hoa Tho Tay. Encouragingly, tests on all of them came back negative for the virus.
The district authorities have appealed for businesses nationwide to make the purchase of more than 1,000 anti-drop caps and, more than 1,000 antibacterial cloth masks for the distribution to stallholders operating in 6 traditional markets.
According to the Da Nang Centre of Disease Control (CDC), medical workers took swab samples from a combined total of 10,000 residents across the city on 23 August, and encouragingly, only one of whom tested positive for the virus,
According to the municipal Steering Committee for Covid-19 Prevention and Control from 24 July till now, a total of 187,712 people across the city have tested for the deadly virus.
Out of the total 227 laboratory-confirmed Covid-19 patients being treated in the city, 155 no long show clinical manifestations for coronavirus, whilst 34 with mild symptoms and the remainder in a severe or critical condition.
In the coming days, heed will be paid to scaling up Covid-19 testing programmes to provide tests for market stallholders, foreigners, and workers in industrial parks, and workforce involved in pandemic control activities in the city.
For the time being, functional local forces are increasing their patrols and inspections of the public practice of the city's social physical distancing rules, and imposing administrate penalties on any breach.
After Da Nang's enhanced social distancing measures came into full effect in late July, functional local units have been dealt with a series of busts, including a cyber café that hosted a group of eleven gamers for nearly an entire day and several drug abusers under the influence of methamphetamines.
By KHANH HOA, NGOC PHU- Translated by A.T
.