COVID-19 still a threat to Da Nang, following COVID-19 guidelines needed maintaining, Da Nang leader says
October 08, 2021, 17:01 [GMT+7]
Da Nang People's Committee Chairman Le Trung Chinh on Thursday afternoon praised units and organizations for their efforts in providing their best possible support for people who go through Da Nang on their way home from the Southern localities. He remarked that they actively take part in meaningful activity and show social responsibility, compassion and a sense of humanity to support people facing difficulties amid COVID-19 crisis.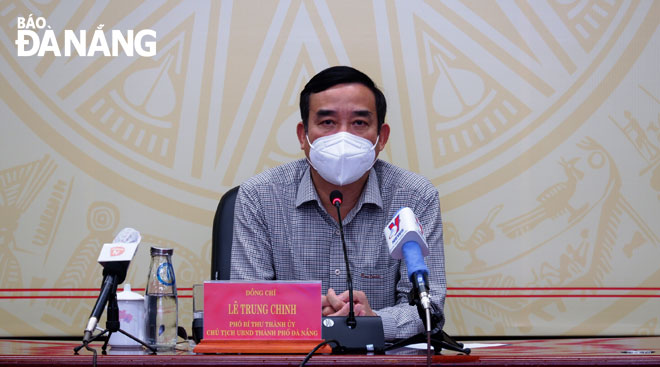 Da Nang People''s Committee Chairman Le Trung Chinh chairs the regular meeting of the municipal Steering Committee for COVID-19 Prevention and Control on the afternoon of October 7. Photo: PHAN CHUNG
Mr Chinh called on units and organizations to continue their efforts to facilitate the returning people to get back home safely. He pledged that the municipal government is ready to continue to create the most favorable conditions for local units and organizations to provide practical support for the returning people.
Chairman Chinh warned that COVID-19 is still a threat to Da Nang amid the city's reopening, thereby asking for continued efforts to ensure stringent compliance with the guidelines for the prevention and control of COVID-19 in line with the current direction from the municipal administration.
The Da Nang government leader highlighted the need to raise public awareness on preventing the spread of COVID-19 and encourage them to take action to protect themselves and others. He also underlined the importance of COVID-19 community taskforce in keeping a close watch on people coming from other parts from the country in order to early detect arrivals from COVID-19 affected areas but fail to declare their health status.
Mr Chinh directed relevant agencies to develop policies to support struggling families and support people facing difficulties due to COVID-19 in order to ensure equitable and timely access to COVID-19 financial support packages for eligible beneficiaries.
He also urged the health agency to create a full list of immigrants in Da Nang in order to offer life-saving COVID jabs to them with high priority given to those with underlying medical conditions, pregnant women, and workers.
Reporting by PHAN CHUNG – translating by H.L
.