Da Nang leader urges acceleration in COVID-19 vaccinations
August 10, 2022, 15:51 [GMT+7]
During his meeting with the health sector and local relevant agencies on Tuesday afternoon, Da Nang People's Committee Chairman Le Trung Chinh called on them to boost vaccination efforts against COVID-19 in the city.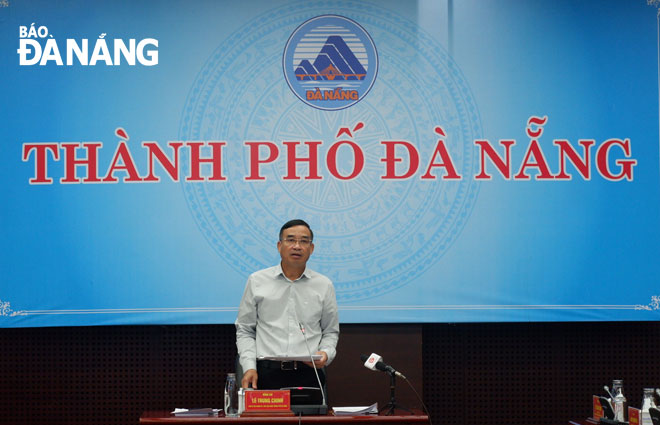 Chairman Chinh delivering his remarks on Tuesday's meeting. Photo: PHAN CHUNG
Chairman Chinh stressed the need for authorities at local level to take more drastic action to accelerate vaccinations. He ordered better coordination between authorities at local level and the health sector to offer COVID vaccines to eligible people in a timely and effective manner.
Currently, the Ministry of Health has made adjustments to the distribution of COVID-19 vaccines to localities nationwide, and its vaccine allocation policy is based on their registered volume of vaccine doses. Therefore, the city leader highlighted the need for authorities at local level to take proactive action to ensure adequate and timely supply of biological products and COVID-19 vaccines in the city. The importance should be attached to launching COVID-19 public education campaign which is the city's initiative to increase public confidence in and uptake of COVID-19 vaccines in a bid to encourage local residents, especially school-age children, to roll up their sleeves to get the COVID-19 vaccine before the new academic year starts.
Data provided by the Da Nang Department of Health showed that as of August 8, Rates of first- , second-, supplementary dose, first- and second booster coverage in Da Nang had reached over 99%, 99.61%, over 99%, 74.2% and 37%, respectively.
For children and young people aged 12 to 17 years, over 99.9% of them had received a first dose, 98.89% had got a second shot, and 16.88% had received boosters.
For children aged 5–11 years, 34.69% of them had received a first dose and 41.11% had got second dose.
In its efforts to realise the city's goal of administering close to 172,000 doses of COVID-19 vaccines in August, the city's health sector is urging authorities at local level and relevant agencies to educate local residents and build confidence around the COVID-19 vaccines in an attempt to shift the public mindset from vaccine concern to vaccine confidence as well as encourage public's willingness to get a COVID-19 vaccine.
Doctor Tran Thanh Thuy, the Acting Director of the municipal Department of Health stated that the main cause of low vaccination coverage rate is subjective awareness of COVID-19 risk among local residents and ignorance of preventive measures by the general public, including refusing vacinations. Meanwhile, the city's COVID-19 booster programme now only mobilizes eligible people to get their booster doses to protect themselves from new Omicron variants but there is no guidance on appropriate measures to be taken to handle those who refuse vaccinations, Mrs Thuy remarked.
In addition, the health sector finds it very hard in offering COVID-19 shots to school-age children as the city's vaccination campaign for them is being launched in their summer breaks, resulting in no smooth coordination between authorities at local level, schools, their students and parents.
Furthermore, the vaccination campaign has been launched in the city during the continuous period since March 2021. Hence, healthcare staff involved in administering COVID-19 vaccines have worked very hard during working week and weekends.
Reporting by PHAN CHUNG – Translating by H.L
.