City leader attends online 'Meet the USA in 2021' event
November 24, 2021, 11:29 [GMT+7]
A conference entitled 'Meet the USA: Partnering for Reopening, Recovery and Rebound in the Southern Economic Region' was held in both online and offline formats in Ho Chi Minh City on Tuesday.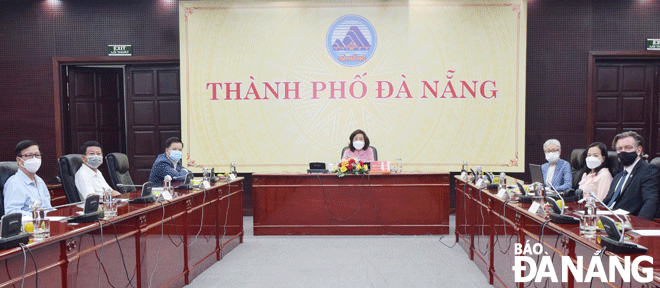 Vice Chairwoman of the Da Nang People's Committee Ngo Thi Kim Yen attended the online "Meet the USA in 2021" event in Da Nang. Photo: TRIEU TUNG
Deputy Minister of Foreign Affairs To Anh Dung and Chargé d'Affaires at the US Embassy in Viet Nam Marie Damour co-chaired the event.
Vice Chairwoman of the municipal People's Committee Ngo Thi Kim Yen chaired the event in Da Nang.
Delivering his opening speech at the conference, Deputy Minister of Foreign Affairs To Anh Dung remarked, over the past times, the Vietnamese government has taken a handful of strong, quick and timely measures to drive the country's post-pandemic economic recovery, and at the same time gradually reopen its economy in the context of safe, flexible adaptation and effective control of COVID-19.
He highlighted the significance of the event in reaffirming great efforts made by the Vietnamese government and relevant ministries and sectors to support businesses to drive their post-COVID recovery.
Chargé d'Affaires at the US Embassy in Vietnam Marie Damour emphasised, currently, Viet Nam's economic recovery from the coronavirus pandemic was on track. That was a good sign for the United States as well because Viet Nam is the 10th largest trade partner of the US and an important part in the global supply chain. Therefore, the event afforded both sides a chance to discuss ways to restore production, boost recovery and develop the economy.
In her remarks at the conference, Da Nang People's Committee Vice Chairwoman Ngo Thi Kim Yen said Da Nang has gained numerous positive results in its fight against COVID-19. In particular, Da Nang has carried out a fast rollout of COVID-19 vaccines, and it is one of the five localities which has been given green light from the Prime Minister to pilot welcoming back international visitors.
Also, the city successfully organised the 'Business Dialogue' conference in September 2021, aimed at handling some issues of deep concern to the city-based businesses and seeking more effective ways to drive their growth. This was considered as a favourable condition for the business community in Da Nang to restore production and ensure the supply chain of goods at home and abroad.
Reporting by TRIEU TUNG - Translating by M.DUNG
.