Viet Nam signs deal with Russian firm to analyse football player data
Published: March 23, 2016
The Viet Nam Football Federation (VFF) has inked an agreement with a Russian analyst firm to be provided with professional statistics on the players of the country's national football teams.
The VFF and the National Coach Council had discussed and reached consensus in signing a contract worth EUR20,000 (US$22,313) with Russia's Instat Football (InStat) to support the newly appointed head coach Nguyen Huu Thang in training the national football teams.
The Russian company will supply their expert statistics and analysis about the players in the men's and women's squads, as well as the national under-23 football team, in preparation for the coming ASEAN Football Championship – the 2016 AFF Suzuki Cup.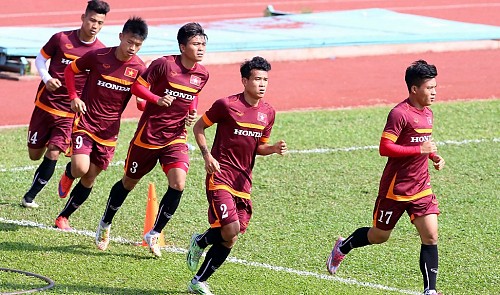 Players of the Vietnamese national under-23 football team are seen during a training session.
The National Coach Council appealed for such an agreement for years, as the application of science and technology to football has been carried out by many countries in Southeast Asia and around the world, said Nguyen Sy Hien, the council's chairman. Due to many reasons, especially financial issues, the VFF had not approved the suggestion until recently, Hien continued.
Services offered by InStat are very useful for football trainers because their reports can help the coaches fully realize their players' strengths and weaknesses, based on which corresponding practice sessions and strategies will be designed to maximize their potential while sparing them injuries from overtraining, said Hoang Anh Tuan, coach of the national under-19 football team.
Football expert Doan Minh Xuong supported the VFF's decision to ink the contract with InStat by asserting that modern football development relies hugely on the assistance of science and technology.
Xuong added that it would be more ideal if the VFF shook hands with the Viet Nam Professional Football JSC, which organizes football leagues in the country, and other local football clubs to purchase a service package of higher quality in order to analyze data on all players competing in the top-flight V-League 1.
Such an idea can only be realized when managers of all football clubs in Viet Nam agree to pay for InStat services, chairman Hien said.
"I know that the clubs have been well informed of the services. However, whether they decide to use them is a different story," he said.
InStat specializes in providing information related to football players based on their performance during a game, including movement, distance, speed, endurance, and others, the VFF's former general secretary Ngo Le Bang said.
The firm's technology hinges on mathematical formulas and a perfectly trained team of more than 300 certified analysts, while its data undergoes triple-check procedures, with error rates being 1.2 percent.
About 800 football clubs worldwide have become the company's clients, such as Real Madrid, Liverpool, Manchester City, Chelsea, and Dortmund.
(Source: Tuoi Tre News)
.