Da Nang, Hoi An to host various events to welcome in New Year
Published: December 23, 2016
A wide variety of fascinating cultural and tourism activities are scheduled to take place in Da Nang and Quang Nam Province's Hoi An to welcome in the New Year 2017.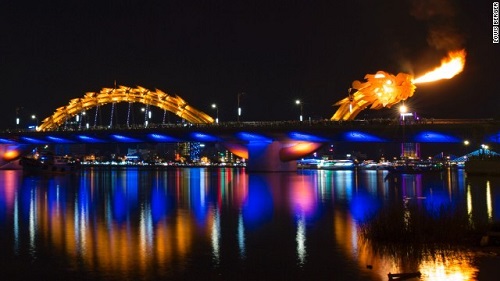 The Rong (Dragon) Bridge breathing fire (Photo: Internet)
According to the Da Nang Department of Tourism, on the occasion of Christmas festival and New Year 2017, local residents and visitors will have the opportunity to participate in numerous cultural and entertainment events.
Included are the Countdown Party featuring unique arts performances, a live video conference themed 'Music Festival - Welcoming in New Year 2017', and an arts programme and fireworks show themed 'Spring with Riches and Honours', all held on December 31. In addition, a contest and a parade of floats decorated with flowers themed 'Da Nang – 20 Springs' will take place on 31 December and 1 January 2017.
Three tourist ships will dock at the Tien Sa Port, including two Genting Dream liners carrying a total of 7,000 passengers, and the SS Virgo with 2,500 passengers on board.
On 1 January, the city will officially welcome the first flight on the Singapore - Da Nang route operated by SilkAir Airline with a total of 180 passengers on board.
The number of visitors to the city during the upcoming Christmas and New Year holidays is estimated to reach 138,287, including 75,604 foreigners.
Meanwhile, Hoi An will host a gala evening themed 'Hoi An welcomes in the New Year of 2017' from the evening of 31 December until 1am on 1 January. During the event, local residents and visitors have a chance to enjoy the exciting atmosphere of dances, songs, and colourful costumes.
On the evening of 31 December, Hoi An authorities will organise a ceremony to welcome the one millionth visitor to Quang Nam province in 2016.
(Source: Nhandanonline/ DA NANG Today)
.