Spring Flower Festival to be held from 14 - 22 Feb
Published: January 22, 2018
The 2018 Spring Flower Festival will take place at Da Nang's 29 March Park from 14 - 22 February, with the opening ceremony held in the evening of 14 February.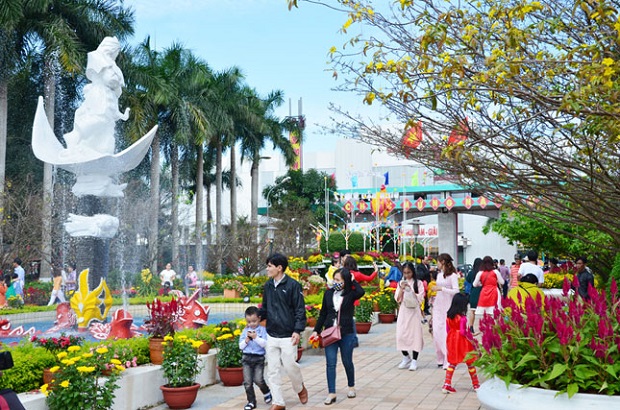 Visitors to last year's event
The festival's organiser – the Thanh Khe District People's Committee (PC), is taking numerous measures to ensure the success of the upcoming event.
The Vice Chairman of the district PC cum the Head of the event's Organising Board, Mr Nguyen Thanh Xuan, remarked that the focus is on ensuring security, and safety for visitors during the event.
Importance is attached to upgrading and doing maintenance work for fun games, installing more lighting systems, and decorating a welcome gate.
The organising board has joined efforts with the municipal Cultural Centre, the Children's House, the Nguyen Hien Dinh Tuong Theatre, plus the 'Bai Choi' clubs of Song Yen and Hoi An to make detailed plans for a special arts performances at the event.
Great efforts have been made to work closely with the district's Sports and Culture Centre to ensure the preparations for various exciting cultural activities held during the 7-day festival, including a bird-singing contest, and a bonsai exhibit.
In addition, heed is paid to ensuring food safety and hygiene at food stalls opened throughout the festival. Such stalls' owners will be required to offer food with a clear source of origin, display the prices of their products, and sell them at those displayed prices.
Most notably, gambling of all forms will be banned at this year's festival.
The parking fees will be 5,000 VND and 3,000 VND for motorcycles and bicycles respectively.
Police officers from the district's Thac Gian and Chinh Gian wards will be on duty at the upcoming event to ensure security at the site.
The park's security and inspection teams will increase their patrols and checks to ensure firefighting and prevention work during the event.


.