Viet Nam make history, shock Asia
Published: January 22, 2018
Viet Nam U23's historic win against Iraq in the quarter-finals of the ongoing Asian Football Confederation U23 Championship shocked the continent's football community.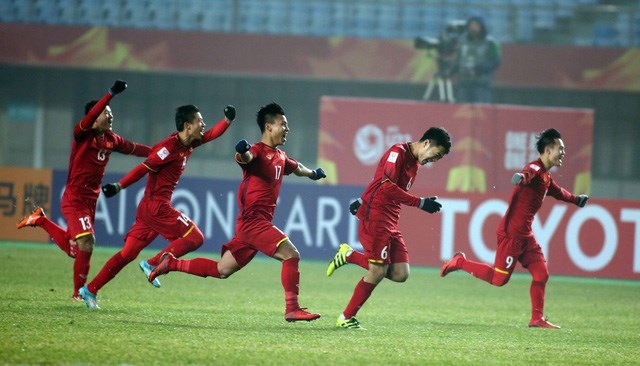 U23 Viet Nam footballers after their historic victory (Photo: tuoitre.vn)
Viet Nam defeated Iraq 5-3 in a penalty shootout after an extraordinary 3-3 draw following extra time at the Changshu Stadium in China on Saturday to earn a place in the semi-finals.
This tournament is first time Viet Nam have qualified for the knock out stages, and the first time since 2014 Iraq have failed to reach at least the semi-finals of the AFC biennial event.
According to experts, coach Park Hang-seo's shrewd decisions and the energy of his players led to the shock win.
"I am very happy with the win of U23 team. It comes to me as an unbelievable thing although I thought of this result. However, we are proud to take this win. I want to say thank you to the Viet Nam Football Federation, fans and every Vietnamese who supports us," said 58-year-old coach Park.
"Prior to the match, I told my players that we would do a special thing. And we did it. We made every effort and fought to the last second. In fact, I wasn't surprised much because I always think my players can win.
They have inner belief and it showed in this game. I don't know if another miracle can come for Viet Nam but we will try our best," Park added.
Meanwhile, Iraq's coach Abdulghani Shahad apologised on the website the-afc.com: "I apologise to the Iraqi fans, I think that our team played a good match, especially in attack, however, our defensive mistakes cost us the goals as Viet Nam scored twice from corner kicks. Mistakes can happen in football, and I take the responsibility for any bad result, regardless of the players' mistakes, as mistakes are part and parcel of football."
After the victory, Prime Minister Nguyen Xuan Phuc congratulated the team who played with the courageous spirit and will of the Vietnamese people.
"This win is the pride of Viet Nam's sports and of Vietnamese football. On behalf of the Government, I send warm congratulation to the whole team and coach Park Hang-seo," said Phúc.
The Prime Minister wished Viet Nam would continue to succeed and keep faith in themselves for the upcoming semi-final.
Millions of fans in Ha Noi, HCM City and Da Nang took to the streets to celebrate the victory.
"I am really happy. My heart is still quivering. For a long time, football didn't bring me this feeling. I want to say thank you Vietnamese team and coach Park," said Hanoian supporter Nguyen Viet Anh.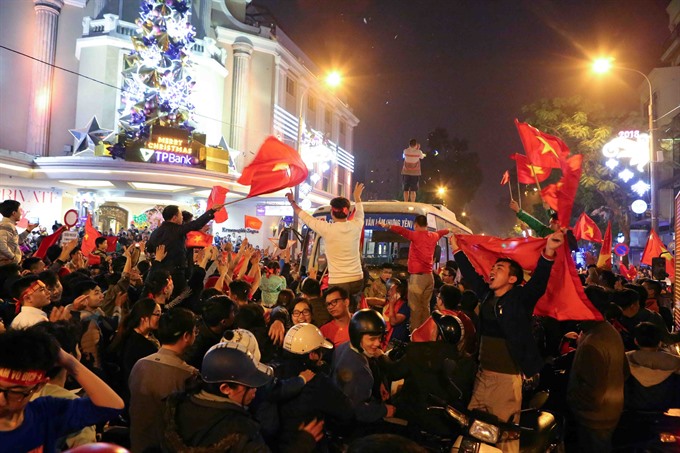 Glory achieved: Hanoian fans take to the streets to savour Viet Nam's win. — VNA/VNS Photo Thanh Dat
While Bui Xuan Giang also couldn't hide his happiness: "When coach Park started to lead Viet Nam team, I didn't believe in his ability. But via the AFC event, I knew that I made a big mistake. He and his players made me and millions of Vietnamese cry because of happiness. I thank him and his heroes very much."
By writing a new page in the history of Vietnamese football, Viet Nam have received praise from the international media.
Hankook Ilbo, a South Korean daily newspaper, said that coach Park brought a miracle to Viet Nam, leading the U23s to become the first ASEAN team to enter the final four of the AFC event.
While foxsportsasia.com said Malaysia and Viet Nam restored ASEAN's pride and respect.
"What a weekend for Southeast Asian football. It started with delight among ASEAN fans that there were two teams in the quarter-final of the 2018 U23 AFC Championships for the first time. It ended with smiles wider than the Ha Noi streets that were full of people celebrating."
The-afc.com said Viet Nam held their nerve in the shootout to reach the last four, while SpotvNews called coach Park the "Guus Hiddink of Viet Nam".
Viet Nam will next meet Qatar, who defeated Palestine 3-2 in the other quarter-final, on Tuesday, 23 January at the Changzhou Olympic Sports Centre at 3.00pm (Ha Noi time).
(Source: VNS)
.