DIFF 2018 to be held from 30 April to 30 June
Published: February 13, 2018
The Da Nang People's Committee (PC) has recently made preparatory plans for the upcoming International Fireworks Festival 2018 which will take place in the city from 30 April to 30 June.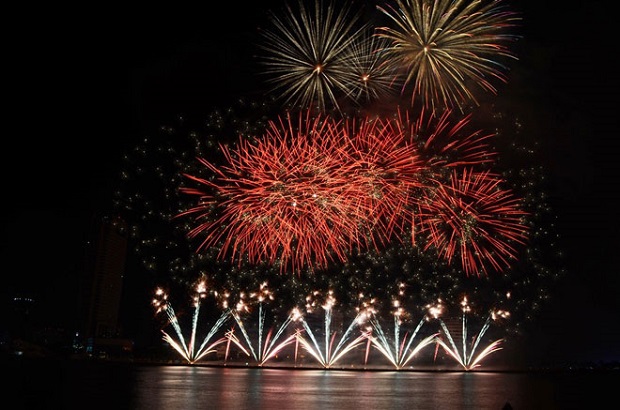 An amazing performance at DIFF 2017
In detail, the municipal PC will be responsible for directing all organisation plans for this year's festival. In addition, the real estate developer Sun Group and the Global2000 Company from Malaysia continue to be the organiser and the consultant for the event respectively.
Themed 'The Legend of Bridges', this year's festival will feature performances from a total of 8 teams from Poland, France, the US, Italy, Hong Kong, Sweden, Portugal, and the host Da Nang-Viet Nam, on the Han River.
The fireworks will be set off at the former Han River Port near the Novotel on Bach Dang, whilst viewing stands for spectators will be set up on the eastern bank of the Han River, again as in previous years. Each fireworks performance is required to last between 20 and 22 minutes.
Participating teams' performances will be evaluated on the following criteria: their themes and creative ideas, the diversification and innovations in using visual effects to make the fireworks more colourful, the scale and number of fireworks effects, the harmony between background music and fireworks display, and successful reflection to the festival's theme.
The first prize winner will be awarded with the DIFF 2018 trophy and 10,000 USD in cash.
During the 5 performance nights, visitors will be treated to impressive performances by hundreds of international and domestic artistes at the main stage floating on the Han River.
Furthermore, a wide range of fascinating cultural activities will be organised during the 2-month festival.
In particular, fascinating street festivals will take place along certain inner-city streets every Friday, Saturday and Sunday, except for the nights of fireworks performances. These events will feature parades of a total of 12 eye-catching flower-decorated floats representing the 8 participating countries.
In addition, an international cuisine space will be organised at the Asia Park on 2 September street between 28 April and 30 June.


.