SHB DN hope for good performance at this year's V-League season
Published: February 13, 2018
On Monday, the SHB Da Nang players attended a practice session prior to the forthcoming Tet holiday, which will begin on Friday, 16 February, and they will resume their work on the 3rd day of the 1st lunar month.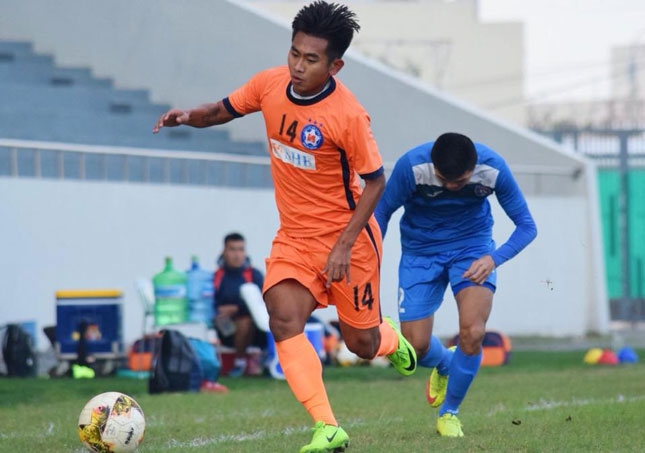 SHB DN and Than Quang Ninh
The new head coach of SHB DN, Mr Nguyen Minh Phuong, is likely to feel pleased with his squad's recent encouraging results.
In detail, the city's players defeated Thua Thien Hue, and had a draw against Than Quang Ninh in recent friendly matches.
However, many local fans have yet to make great expectation in the upcoming Viet Nam's top-tier V League 2018 season because this tournament is thought to only offer a good chance for the 37-year- old- coach to stimulate as much experience as possible in his new position, as well as for his young players to sharpen their professional skills.
One problem is that the club is currently facing a severe shortage of young talented players.
In particular, 33-year-old top striker Do Merlo is not likely to shine at this year's V-League season because he is now showing his age.
The team, therefore, are now in desperate need of at least one qualified foreign player who is expected to make a vital role in promoting the squad' strength in preparation for this tough tournament.
To make the problem worse, some of the young players from the local club's youth training programmes have yet to satisfy the strict requirements of the coaching board and meeting the local fans' expectations.
To address the above issues, SHB DN will further develop the squad by recruiting some new domestic and foreign players in preparation for the new V-League season to fill the gaps left by stars who had already terminated their contract with the team.
Hopefully, given positive changes in both the squad, SHB DN will overcome their current difficulties and gain even more success from the new league season.
.