Li An – deposited corner inheart of Da Nang
December 13, 2021, 10:29 [GMT+7]
Li An coffee shop- a quiet corner located at 20 Nguyen Chi Thanh Street, Hai Chau District, Da Nang has been chosen by customers for its harmonious space between ancient French architecture mixed with modern features.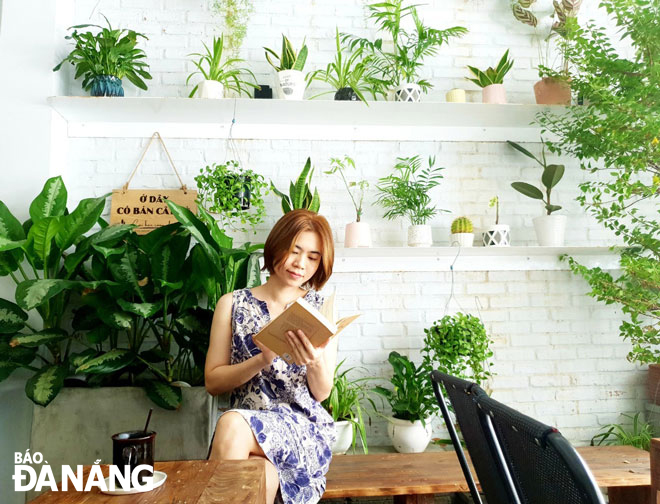 Li An offers guests a peaceful and comfortable atmosphere via its design in harmony with nature. Photo: THANH TINH
The harmony of indoor and outdoor spaces and design using the green of trees and the white background of the ancient walls as the main theme has created many attractive sitting corners.
From the entrance, small potted plants neatly are arranged on the wall shelves, followed by the windows and the thick wall is kept intact from the old French house. The modern design of the bar along with the Western-style tables and chairs are harmonized in the open direction to create friendliness as well as increasing interaction with guests.
As shared by Ms Tu Le Nhu Tam, Li An cafe owner, although coming out only in a short time since February 2021 and has been affected by the COVID-19 pandemic for more than 5 months, the café has been attracting many certain customers.
During the early days of starting to sketch the design of Li An, Ms Tam had put her utmost enthusiasm to create a modern coffee shop associated with nature yet still preserve the inherent French architecture of the house as a family memory.
"I hope Li An can convey the close and comfortable feeling and makes people undistracted by the worries of life. Li An is a suitable place for coffee aficionados to have a cordial conversation or spread inspirational stories."
Li An chooses smoothie bowls with a variety of ingredients ranging from banana, avocado, apple, strawberry, red dragon fruit, mango, passion fruit combined with toppings such as fresh fruit, chia seeds, nuts which are good for health as the implication is to bring new experience for customers.
Moreover, this venue also serves numerous body-purifying water such as carrot, orange, lemongrass, pineapple, apple, ginger.
The highlight at the shop is Oolong Litchi or Guava Oolong which are suitable for guests on scorching days.
Most importantly, Li An mainly has pure machine-brewed coffee with 100% roasted and ground Arabica beans. The reasonable price of drinks ranges from VND 25,000 - 39,000 and smoothie bowls with VND 55,000.
Reporting by NHAT LE- Translating by T.VY
.