Explore food and culture in Thai Lai eco-tourism village in Da Nang
June 10, 2022, 16:13 [GMT+7]
Nestled on Hoa Nhon Commune, Hoa Vang District, Da Nang, the Thai Lai ecotourism village officially opened its doors in late May, and it becomes new attracttion to visit in the city. This place is expected to create amazing experiences for locals and tourists with great cultural space and wonderful local cuisine.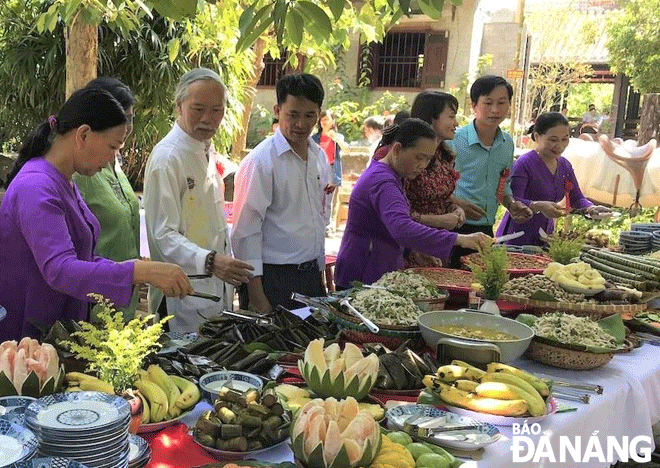 Visitors to the Thai Lai Village will have a chance to enjoy local specialties. Photo: DIEP NHU
Visitors to the Thai Lai Village will have the opportunity to explore local community values ​​by visiting model gardens owned by Mr Nguyen Dang Su and Mr Nguyen Van Du, along with an ancient house owned by Mr Do Huu Minh. This ancient house has an area of ​​​​nearly 80 square metres, and it features wooden structure while it dates back about 150 years. The wooden house or Central Viet Nam's Ruong House has a unique structure with beams and pillars enforced by timber and bamboo connectors, without the use of any iron nails. On display in the wooden house are farming tools and implements, along with flour mill, rice mill, fishing tools, and more that looks like a museum of farming tools.
Mr. Do Huu Minh is one of the pioneers who have deploped traditional home model in the Thai Lai Village and he hoped that the rural area could become a place to promote local cultural values in Da Nang.
He also highlighted the importance of active involvement of local residents and strong support from authorities at all levels and relevant agencies to the creation of attractive tourism products in a bid to promote the sustainable development of ecotourism.
Apart from visiting gardens, visitors to the Thai Lai Village are also provided with a chance to explore the beauty of Thai Lai Communal House, a city-level historical site with its beautiful architecture, an ancient house of worship with its unique architecture, as well as enjoy 'Bai Choi' (singing while acting as playing cards) performances. In addition, visitors also experience indigenous village life, and learn about traditional farm cultures through farm visits and their involvement in agricultural operations, all within a tourism experience. Furthermore, visitors will be thrilled to have their own bowl of Quang Noodle (Mi Quang in Vietnamese) or their own crispy Vietnamese sizzling pancake or crepe (Banh Xeo in Vietnamese) made by themselves.
Hoa Nhon Commune People's Committee Chairman Tran Van Thu said that authorities in Hoa Vang District, and the municipal administration as a whole, have paid special attention to promoting tourism development, especially developing community-based ecotourism in combination with building new-style rural areas. Therefore, the Thai Lai village has been selected as a model for the development of community-based tourism based on fully tapping the potential of Tuy Loan - Thai Lai tourism cluster. Thai Lai is a small village but fully converges characteristics of an old rural village in Central Viet Nam while very few places in Viet Nam has such sceneries. After a two-year hiatus caused by the coronavirus pandemic, the Thai Lai village has officially opened its doors to visitors in response to the city's Tourism Stimulus Programme 2022 themed 'Enjoy Da Nang" and drive post-pandemic economic growth in the rural area.
Mr. Do Thanh Tan, the Head of the Hoa Vang District Culture and Information Office highlighted the need for safeguarding, promotion and exploitation of historic and cultural heritage, natural values in the Thai Lai Village in an attempt to promote sustainable tourism, thereby making this place more attractive to domestic and foreign tourists.
Reporting by DUYEN ANH – translating by H.L
.