iVegan Super Shop raise stature of vegetarian dishes
May 27, 2022, 16:34 [GMT+7]
iVegan Super Shop, located on land lot 31, An Thuong 4 Street, My An Ward, Ngu Hanh Son District is a vegan restaurant that is renowned for a wide range of delicious and nutritious dishes carefully prepared in terms of recipes, ingredients, attractive texture.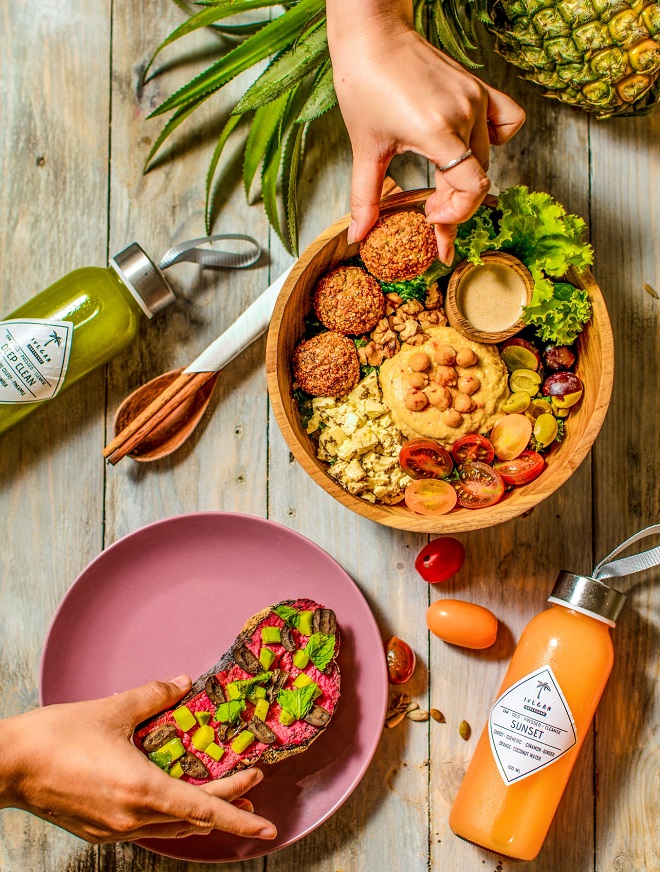 iVegan Super Shop serves 5-star standard vegan dishes. Photo: H.L
Bearing the slogan 'Health is wealth', each dish offered by iVegan Super Shop is derived from natural, abundant, sugar-free and nutritious foods.
In particular, the food intake is controlled, limiting excess energy consumption, helping customers stay in shape.
The perfect combination of green vegetables, mushrooms, whole grains and vegan ingredients gives each dish a certain nutritional profile.
If you choose to have breakfast at iVegan Super Shop, the staff will definitely recommend you to take a nutritious smoothie that costs about VND80,000.
The ingredients include cocoa, unsalted butter, coconut milk, banana, pineapple, turmeric, ginger, passion fruit, Chia seeds, apple, red flesh dragon fruit, strawberry and granola to ensure protein, carbohydrates, vitamins, minerals and other important nutrients.
There are about 7 such smoothies for customers to easily choose and change the menu every day.
In addition, the salad at iVegan Super Shop is attractive with fruit and vegetables, nuts and sauces according to its own recipe, served in an eye-catching wooden bowl.
It can be said that the menu at iVegan Super Shop is quite diverse. In addition to the above-mentioned attractive dishes, the restaurant also serves burgers, pizzas, sandwiches, Pad thai (a stir-fried rice noodle dish commonly served as a street food in Thailand), rice rolls, soups, bamboo charcoal bread, coffee, herbal teas and low-sugar cakes.
Here, customers can try Falafel Platter - one of the favourite side dishes. In addition to pita bread and vegetables, the dish features 4 crispy roasted chickpeas and a flavourful vegan sauce.
Not only does it act as the venue of 5-star standard vegan dishes, iVegan Super Shop also helps its customers build a healthy vegetarian journey with the concept: 'clean, fresh, delicious and healthy'.
For lifelong vegans, the restaurant will create a weekly or monthly personal menu for them based on their nutritional needs such as calories, protein, fat and starch. This helps customers stay disciplined in eating for health, save time and experience more new vegetarian dishes.
Reporting by THAO MIEN - Translating by A.THU
.