Sipping tasty teas at the foot of mountain
May 09, 2022, 15:45 [GMT+7]
Simple, peaceful yet highly-inviting setting is the most impressive thing about OM Tea & Coffee located at 116 Thich Thien Chieu, Tho Quang Ward, Son Tra Dstrict, Da Nang.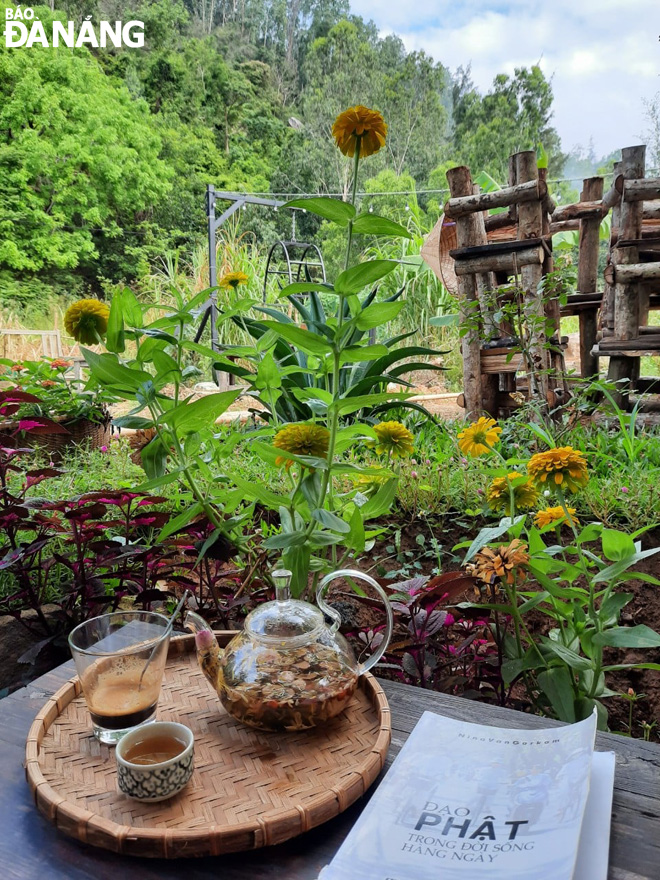 Peaceful and romantic space at OM Tea & Coffee. Photo: H.L
Located at the foot of the Son Tra mountain, OM Tea & Coffee's garden is full of wildflowers, ginger grass, some banana bushes, bamboo fences and simple wooden tables and chairs.
On cold days, enjoying a cup of tea, watching fog blanketing the top of Son Tra mountain brings about a poetic, poetic feeling.
Shop owner Nguyen Xuan The said that OM Tea & Coffee retains most of the natural and ornamental values of the garden before 'dropping' into a few delicious and flavourful teapots or cups of coffee.
That rustic, close nature, according to Mr. The, is very suitable for 'romantic souls' who like to enjoy tea whilst contemplating the mountainous scene.
Besides coffee, the main drink at OM Tea & Coffee is herbal tea. There are a full range of teas with chrysanthemum, rose, jasmine, flower, lotus heart, red apple, goji berry, longan, licorice, sage buds, red artichoke flower and lotus leaf.
According to Mr. Nguyen Xuan The, if well preserved and processed, herbal tea will help people improve their physical strength and cool off in the summer.
For example, chrysanthemum tea clears heat, antibacterial, detoxifies, relieves flu, headache, fatigue, supports sedation and helps sleep well.
Red artichoke flower tea is an antioxidant-rich food, containing a lot of beta-carotene, vitamin C and anthocyanin, which helps improve health, reduce inflammation, improve blood pressure, lose weight, lower cholesterol and relieve stress.
The simple design of the gate post and OM Tea & Coffee signboard is one of the special highlights of this site.
The shop has two main spaces: a garden of about 300m2 and a terrace of 60m2, giving customers different experiences.
Along the entrance is a display area of herbal teas, arranged on small bamboo shelves.
With an open space and fragrant tea, OM Tea & Coffee is so cute because it is full of plants and flowers.
"We want to bring you a peaceful and cool space, amidst the sound of birdsong and butterflies," said Mr. The.
Reporting by HUYEN LE – Translating by A.THU
.