Da Nang businesses struggle to get loans despite declining interest rates
March 06, 2023, 18:18 [GMT+7]
After State Bank of Viet Nam's recent orientation of reducing lending interest rates, a number of commercial banks have signaled to reduce or offer loan packages with relatively low starting interest rates of about 7.5 to 10.5 percent per annum. However, the interest rate reductions are only applied for short-term loans. Therefore, businesses across Da Nang still find it difficult to access loan packages with good interest rates.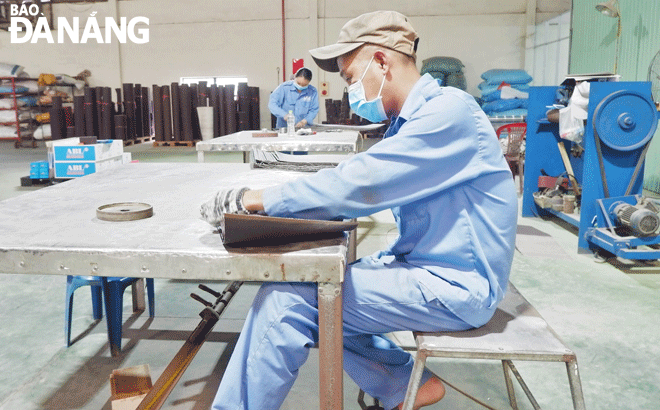 Production activities are seen at the Ba Loc Sandpaper Glue Production Co., Ltd based in Hoa Khanh Industrial Park, Lien Chieu District. Photo: M.Q
Low-interest loan packages are hard to get
The Ba Loc Sandpaper Glue Manufacturing Co., Ltd based in the Hoa Khanh Industrial Park, Lien Chieu District, usually imports a monthly average of 1-2 containers of raw materials with a total value of VND2-5 billion.
Director of the company Nguyen Thanh Phuoc said that revolving capital is very important, especially his company needs a large amount of capital to increase production.
He informed that the company usually borrowed money at 4 partner commercial banks. However, in late January, 2 out of the four banks still applied high interest rates of 9%/year for short-term loans under 6 months so the company has paid off the loans at these two banks.
Currently, the company only has loans at two banks that are applying an interest rate of 6.5%/year for short-term loans and these two banks have not made any move to reduce interest rates.
Meanwhile, Mr. Ngo Bao Thien, Deputy Director of the Long Hien Tourism Transport and Commercial Service Co., Ltd, informed that one of the company's four partner commercial banks has recently announced its new short-term loan packages with interest rates decreased from 9% to 8.2% per annum, but, most of these packages are difficult to access, mainly only for high-class customers.
In addition, many businesses only need to reduce interest rates on existing loans, but do not need to borrow new ones, so the banks' newly-offered loan packages have not helped businesses.
Mr. Nguyen Hoang, Chairman of the Board of Directors cum Director of the An Khe Rattan and Bamboo Cooperative, said that the cooperative is borrowing capital at a commercial bank which has adjusted to reduce the interest rate from 11.5% to 10.5% per annum with a medium-term loan package. However, with a large capital need, ranging from VND1-1.3 billion /month to import 200 tonnes of raw rattan, the borrowing at a commercial bank makes the cooperative very difficult to manage capital.
Since December 2022, the cooperative has applied for a loan at another commercial bank with the current medium-term interest rate of about 9.5% per annum, but it has not been approved yet. Currently, the cooperative must continue to borrow at commercial banks that are in partnership and accept high interest rates because low interest rates are difficult to access.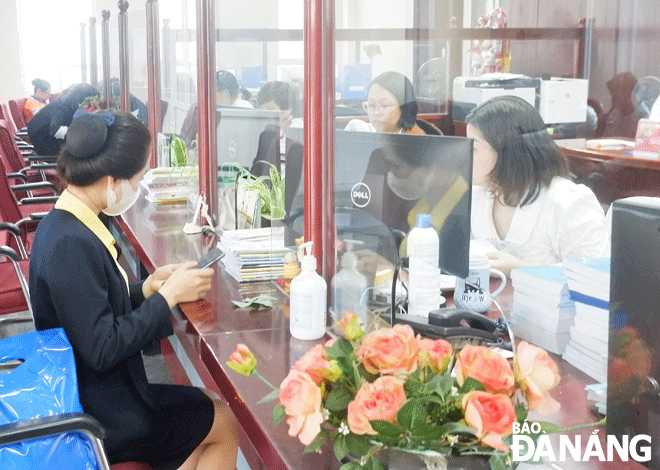 The Da Nang branch of the State Bank of Viet Nam is increasingly directing commercial banks to create favourable conditions for businesses to access credit capital. IN PHOTO: Transaction activities at the branch of the State Bank of Viet Nam in Da Nang. Photo: M.Q
Facilitating businesses to access credit capital
It can be seen that, compared to the peak period at the end of 2022, the current interest rate has decreased by 0.5-2% per annum depending on t fields and terms. However, the reduction of lending interest rates has not really taken place on a large scale, only appearing in a few banks with each package designed specifically for certain industries, businesses or business activities for short-term loan periods.
As for longer-term loan periods, businesses still have to access loans at high interest rates of 10-10.5%/ annum for 6 months, and 11-12%/ annum for over 12 months.
According to representatives from city-based enterprises, the loan interest rate of about 8% is the most stable for businesses. Small and medium-sized businesses will often have to accept reduced profits to offset costs.
Mr. Le Truong Ky, Vice Chairman of the municipal Young Entrepreneurs' Association cum the Chairman of the Board of Directors and General Director of DINCO Technical Construction JSC, said his company has a partnership with 3 commercial banks. One of them is applying short-term loan interest rate of 8.2% per annum, whilst the remaining 2 banks are offering at 10% per annum. Up to now, the company has not received any notice from partner banks about reducing lending interest rates.
Currently, the company as well as many businesses cannot expand production, because if they switch to a medium and long-term loan package, they will immediately be charged an interest rate of 10-12%/annum. Enterprises want to get a loan at interest rate of 9%/annum with a term of 6-12 months to stabilise production and business activities.
Mr. Vo Minh, Director of the branch of the State Bank of Viet Nam in Da Nang, said that his unit has just issued a document requesting credit institutions in the city to create favourable conditions for businesses to access credit capital. It also regularly exchanges with business association to solve problems, and asks commercial banks and credit institutions to support businesses as soon as possible.
Industrial production index in first two months falls sharply
In the first 2 months of 2023, Da Nang's index of industrial production (IIP) dropped by nearly 9% compared to the same period last year.
Due to the increase in input materials and the decrease in demand for goods have forced many large enterprises in the city must cut labour and working hours, give employees alternate leave, suspend production lines to balance revenue and expenditure, and maintain operational apparatus. Included are the March 29 Textile and Garment JSC, the Da Nang Huu Nghi JSC, and the Da Nang Rubber JSC. (Data provided by the Da Nang Statistical Bureau)
Reporting by M.QUE - Translating by M.DUNG
.