Efforts made to resolve local urban flooding
Published: April 01, 2017
According to the Da Nang Department of Construction, there are currently 18 places in the districts of Hai Chau, Thanh Khe, Son Tra and Ngu Hanh Son which are at risk of flooding.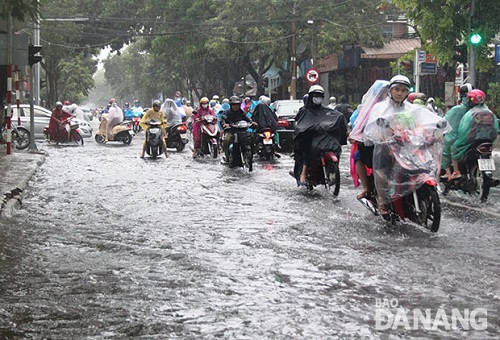 Flooding on a section of a local street
Recently, 3 of these flood points have been improved, and they are waiting to be tested for their drainage efficiency during the next rainy season. They are on a section of Quang Trung Street, at the intersection of Do Quang and Nguyen Hoang streets, and at the intersection of K20 and Le Van Hien streets.
Drainage systems are currently under construction at other flood points. They are along a section of Huyen Tran Cong Chua, and in the residential areas of Thanh Khe Tay, Phuoc My, and An Hai Tay wards.
Over the next few months, work will also start on projects to solve flooding problems on a section of Ong Ich Khiem between its intersections with Hung Vuong and Le Duan, a section of Truong Chinh, and some in the wards of An Hai Bac, Hoa Hai and Man Thai. The city authorities have asked relevant local agencies to prepare plans and select contractors to deploy these projects on schedule.
The district-level authorities, and the city's Land Fund Development Centre, will together implement site clearance and compensation work for the local families who will be affected by these drainage projects in a bid to help construction units begin the construction work as quickly as possible.
.