Special Western flavour at 'Pinko Coffee and Wine' restaurant in-heart of Da Nang
February 28, 2022, 12:12 [GMT+7]
Located on 22 Phan Boi Chau Street, Thach Thang Ward, Hai Chau District, Da Nang, Pinko Coffee and Wine restaurant serving European dishes, especially beer and premium wines imported directly from Italy is one of the great choices for foodies.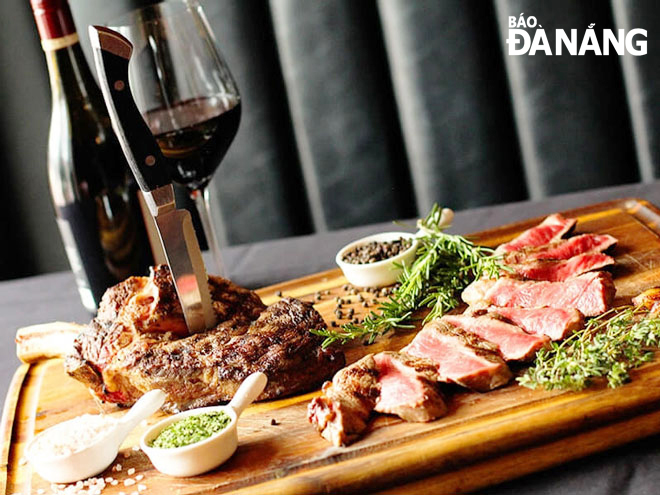 Customers coming to Pinko to have a sip of wine and enjoy steak at Pinko. Photo: N.L
Pinko captures customers' attraction thanks to its typical American-style steak. Taking a sip of wine, enjoying a greasy, fragrant steak with a freshly cooked outer layer and a slightly pale red inside mixed with a spicy green pepper sauce will bring diners a truly memorable culinary experience. The restaurant also offers a variety of dishes such as seafood, ginseng chicken stew, Norwegian salmon roe for customers to choose from.
In the morning, Pinko serves delicious and flavorful coffees and drinks such as Italian-style coffee, ginger tea, honey peach tea. It also serves breakfast with quality dishes such as stewed beef, spicy tuna or tuna cooked tomato sauce served with crispy, fragrant bread.
Pinko started its business in October 2021 and attracts customers by the space that makes the most of the sunlight with the walls coated white tone interwoven with wooden edges to create accents. Customers can drink coffee and take photos with a unique sofa having colourful flowers and leaves as well as a mural featuring the deep small alleys in-heart of the city. There are numerous sets of tables close together to serve coffee and breakfast in Pinko.
On the 2nd floor, two private spaces are designed delicately for guests to enjoy European and Asian drinks and dishes. Apart from that, Pinko's balcony is arranged with several dining tables so that customers can enjoy dinner under the soft light of yellow lamps.
On top of that, Pinko also regularly organizes music nights for its customers every Tuesday and Friday. Do not hesitate to come to Pinko so as to enjoy the delicious flavours of European and Asian drinks as well as dishes, especially Italian.
Reporting by NHAT LE- Translating by T.VY
.