Vietgangz Beach Club- a new entertainment venue suitable for your weekend relaxation
February 13, 2022, 17:56 [GMT+7]
Although the entertainment and shopping complex Vietgangz Beach Club, located at 1 Yet Kieu Street, Tho Quang Ward, Son Tra District, has just put its name on the map of destinations for Da Nang people, it has captured the attention of numerous people thanks to its romantic entertainment venue by Tien Sa beach.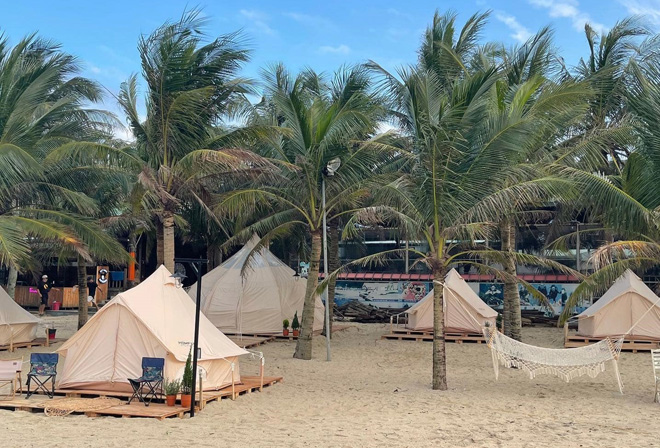 Romantic space by Tien Sa beach. Photo: H.L
These years, sleeping in tents, camping, taking beautiful photos by the beach has become popular trends amongst adults as more and more young people choose ecotourism to enjoy the fresh nature.
At Vietgangz Beach Club, the roomy nomadic tents carefully designed by the owner are placed neatly on the spacious wooden floor, ensuring a clean and private check-in spot.
Besides, it would be remiss if some picnic chairs are not placed in front of the tents for visitors to have a seat and chat, drink a cup of coffee or tea while watching people have fun.
The tents of Vietgangz Beach Club have many different sizes to suit many types of visitors. This type of accommodation is fixed on the beach, under coconut trees or flexible at the request with reasonable prices ranging from around VND 500,000 per night for a 2-person tent.
On top of that, Vietgangz Beach Club also aims to form a series of shopping and entertainment services such as a chain of convenience stores, fashion shops at Tien Sa beach, horse riding venues along the coast, bars, coffee shops, BBQ restaurants and a combination of water sports such as paddleboarding, kayaking, canoeing, windsurfing, fishing.
Over the past time, Vietgangz has focused on designing and developing fashion brands and creative items to serve the majority of young people who love freedom and travel experiences. Therefore, Vietgangz Beach Club has brought a new breeze to a beautiful and quiet Tien Sa beach at the foot of Son Tra peninsula, contributing to enriching the type of tourism experience in Da Nang.
All in all, Vietgangz Beach Club recommends that you should spend a full day here to be able to enjoy all the fun, relax, as well as explore the beauty of Tien Sa beach in your own way from early morning to late night.
Reporting by HUYNH LE- Translating by T.VY
.