Getting ready for Quan The Am Festival
Published: March 24, 2016
The Quan The Am (Avalokitecvara) Festival will run from 25 - 27 March (the 17th – 19th days of the 2nd lunar month) at Ngu Hanh Son District's Quan The Am (Avalokitecvara) Pagoda in the Marble Mountains Tourist Area.
This year's festival will feature numerous new exciting activities including a Village Festival of Flags, and an Olympiad Day Run for Public Health for runners from the district's organisations and agencies.
In addition, a delegation of enlightened monks from Japan's Todaiji Temple, along with monks from Thailand's Buddhist Sangha, will be in attendance. They will introduce various traditional cultural identities from their own countries to local residents and visitors. These include contemporary calligraphy, martial arts performances, the art of flower arranging, a tea ceremony and Zen tea.
During the 3-day event, the Buddhist Cultural Museum at the Pagoda will be open for those who want to admire its valuable Buddhist antiques.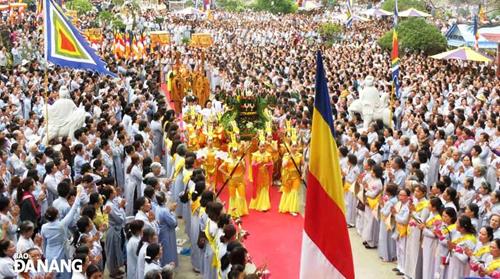 The welcome ceremony for domestic and foreign Buddhist monks at last year's event
According to the event's organising board, this year's festival is expected to welcome a larger number of visitors than in previous years. This is because this year the event falls over weekend, and the Buddhist Cultural Museum, the first of its kind in Viet Nam, will be open to visitors.
The board is making every effort to ensure social order, fire fighting and prevention, food hygiene and safety, environmental sanitation, and civilised trading activities during the event.
In particular, a total of 180 police and traffic police officers, urban rule inspectors, and civil defence members will be assigned to major streets and approach roads to the festivals in order to ensure the smooth movement of vehicles and avoid road traffic accidents.
In addition, strong measures will be taken to stop littering, harassment of tourists, the operation of street vendors, the illegal trade in fish and birds for release, and the increase in parking fees. Heed will also be paid to increasing checks and monitoring the presence of those who disguise themselves as monks and nuns in order to beg for alms illegally.

.