Tie Tag – Korean-style coffee shop in Da Nang
April 22, 2022, 17:27 [GMT+7]
Tie Tag coffee shop, located at 18 Thai Phien, Hai Chau District, Da Nang, impresses its customers with Korean-style features from the space design to the drinks.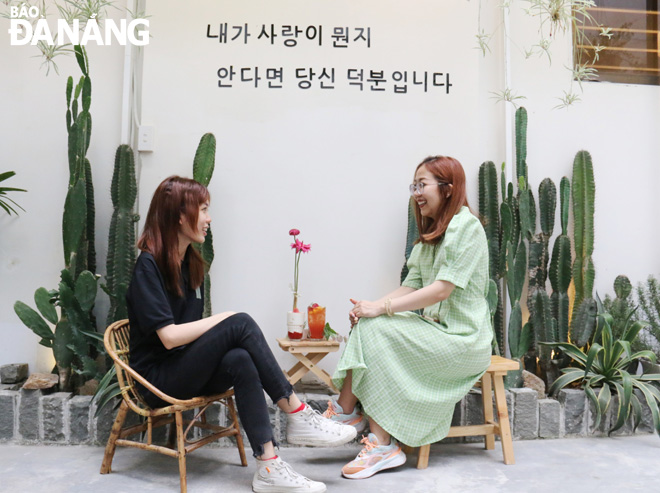 At every corner of Tie Tag, customers can chat with one another, take beautiful photos and enjoy good-quality drinks. Photo: NHAT LE
From the outside, Tie Tag is quite small and cute with a dominant white tone design mixed with a gentle blue background. However, when going inside, Tie Tag takes its guests by surprise with its spacious and airy space.
The venue boasts an indoor space with a luxurious, minimalist, Korean design. Going through a garden with green tones of flowers, guests encounter a two-storey house with the main yellow tone mixed with eye-catching green doorways, at a glance, like a miniature Hoi An.
At Tie Tag, there is no corner that guests cannot "check-in" with photo shootings. This is also a quiet place with gentle music suitable for guests to study, work or chat comfortably with one another.
According to Ms. Nguyen Le Thuc Nhi, the owner of Tie Tag, the coffee shop is designed in Korean style as Nhi's husband is a South Korean national, but she also longs to preserve the Vietnamese characteristics with small old yellow houses standing out among fresh green flowers.
Nhi named the coffee shop "Tie Tag" with the hope that it wants to "tie" customers with a lovely space and super delicious, good-quality water.
At Tie Tag, the Korean-style dishes are diverse. The ingredients for the drink are all imported from South Korea and then modified to suit the taste of Vietnamese people.
In addition to delicious drinks, Tie Tag's staff are also very enthusiastic and cute in the way of welcoming guests and the dishes are always offered in a beautiful and eye-catching texture.
According to Nhi, Tie Tag's bar features an open space so that guests could both drink water and witness most of the drink preparation stages made by the staff.
The owner always works hard to change the menu of the restaurant constantly to offer attractive new drinks to customers. Guests to Tie Tag are very satisfied with the space, drinks' quality and the staff's attitude.
Drinks at Tie Tag are priced at only VND29,000 - VND55,000.
Reporting by N.L – Translating by A.THU
.