Lagim café: Little corner of miniature Da Lat
April 17, 2022, 13:43 [GMT+7]
Located at 44 Lam Hoanh, Phuoc My Ward, Son Tra District, Da Nang, Lagim café is much loved by young people in Da Nang as it looks like a miniature Da Lat.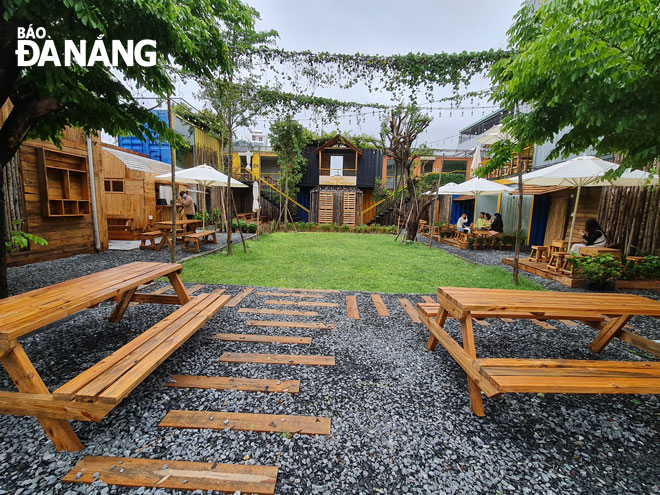 A lovely corner of the Lagim café
The highly coffee shop stands out with beautiful small wooden houses and green gardens.
Lagim is well designed in the style of garden coffee, so the space is spacious and airy.
Guests can either enjoy coffee at small wooden tables arranged in the garden area or at a sitting corner on the upper floor to comfortably view the surrounding scenery as well as enjoy the natural cool breeze.
The yellow wood colour of the small houses, the tables and chairs mixed with the fresh green of the lawns, trees and flowers in the garden will give guests a cozy and gentle feeling.
Visiting Lagim, in addition to enjoying coconut and salted coffee, and cocoa with baked egg cream, guests can choose to experience red artichoke tea, chlorophyll lemon juice, red dragon fruit mojito.
In particular, dinks named 'Wandering with Lagim' with a combination of mango, jam, yogurt, butterfly pea tea and 'Dream with Lagim' with a wonderful mixture of red dragon fruit, rose syrup, fresh milk, ice cream are the two main drinks of the shop, and both of them are creative in shape and characteristic in taste.
Not just a coffee shop, Lagim is also act as a barbeque. Lagim is designed the grill menu with 3 different combinations corresponding to 3 different prices.
Groups of 1 - 2 people can choose the grilled menu 'Love Lagim' priced at VND149,000 whilst the 'Remember Lagim' for groups of 2 - 4 people costs VNS299,000, and 'Lagim addiction' is on offer at VND499,000 for groups of 3 - 6 people.
In particular, Lagim also has a free Dat Bike electric motorbike experience service within 15 minutes.
According to the shop's staff, this electric motorcycle has a pretty powerful engine, suitable for men who like to experence adventurous thrills.
This café is open to guests from 6:00 a.m till 10:00p.m. and serves barbecued dishes from 5:00 p.m to 10:00p.m.
Reporting by KHANH QUYEN - Translating by A.THU
.